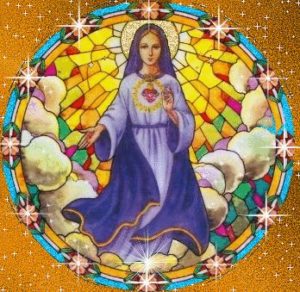 March 23, 2021
Once again, I (Maureen) see a Great Flame that I have come to know as the Heart of God the Father. He says: "Children, as you prepare for the coming of the celebration of Easter, let faith be the foundation of your joy. Pray to Mary, Protectress of the Faith and Refuge of Holy Love for assistance in your Eastertide* celebration. All the grief and sadness of Good Friday was gone on Easter morning. The atmosphere was quiet and calm. Silence was in the air instead of the chaos and noise of Good Friday. Allow your preparation to be a confident preparation for the day of joy that lies ahead."

"Meditate on the grief of My Son's Passion and Death, but with an eye towards the joy that approaches. Be solemn in your preparation, but steadfast in your faith as the day of joy moves closer. Faith must never settle on gloom but always on victory."

Read Acts 2:25-28+

For David says concerning him, 'I saw the Lord always before me, for he is at my right hand that I may not be shaken; therefore my heart was glad, and my tongue rejoiced; moreover my flesh will dwell in hope. For you will not abandon my soul to Hades, nor let your Holy One see corruption. You have made known to me the ways of life; you will make me full of gladness with your presence.'

+ Scripture verses asked to be read by God the Father.

 

23 de Marzo del 2021
Nuevamente veo una gran llama que he llegado a reconocer como el Corazón de Dios Padre. Dice: "Hijos, mientras se preparan para la llegada de la celebración de la Pascua, permitan que la fe sea el cimiento de su alegría. Pídanle a María, Protectora de la Fe y Refugio del Amor Santo que los ayude en la celebración Pascual. Toda la pena y tristeza del Viernes Santo desapareció en la mañana de Pascua. Había quietud y calma en la atmósfera. En el aire había silencio en lugar del caos y ruido del Viernes Santo. Permitan que su preparación sea una preparación confiada para el día de gozo que se avecina."

"Mediten en el dolor de la Pasión y Muerte de Mi Hijo, pero con la mirada puesta en el gozo que se aproxima. Sean solemnes en su preparación, pero firmes en su fe conforme se acerca el día de gozo. La fe nunca debe asentarse en la desolación, sino siempre en la victoria."

Lean Hechos 2:25-28




En efecto, refiriéndose a él, dijo David: Veía sin cesar al Señor delante de mí, porque él está a mi derecha para que yo no vacile. Por eso se alegra mi corazón y mi lengua canta llena de gozo. También mi cuerpo descansará en la esperanza, porque tú no entregarás mi alma al Abismo, ni dejarás que tu servidor sufra la corrupción. Tú me has hecho conocer los caminos de la vida y me llenarás de gozo en tu presencia.
RE: Latest messages are at Holy Love Ministries (www.holylove.org) and Ministerios del Amor Santo (www.amorsanto.com)