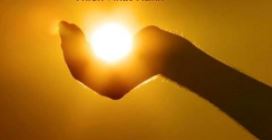 November 7, 2021
Once again, I (Maureen) see a Great Flame that I have come to know as the Heart of God the Father. He says: "Children, pray to recognize the inspirations of present-moment grace. Such grace can be salvific, lifesaving and can change the whole direction of your life. Contemplate for a moment the present-moment graces outlined in Scripture. Moses was inspired to ascend the mountain to receive the Ten Commandments.* Noah was inspired to build the Ark. The people of Nineveh were inspired to repent. These were monumental present-moment graces. But I tell you, if you do not learn to listen to every present-moment grace, you quite possibly could miss the very important inspirations I send into your hearts and lives. No grace is unimportant – no matter how seemingly small. Learn to recognize even the smallest grace so that you do not miss the greater graces I send you."

Read Ephesians 2:4-5+

But God, who is rich in mercy, out of the great love with which he loved us, even when we were dead through our trespasses, made us alive together with Christ (by grace you have been saved),

+ Scripture verses asked to be read by God the Father.

 

7 de Noviembre del 2021
Nuevamente veo una gran llama que he llegado a reconocer como el Corazón de Dios Padre. Dice: "Hijos, recen pidiendo reconocer las inspiraciones de la gracia del momento presente. Una gracia así puede ser salvífica y redentora, y puede cambiar la dirección completa de sus vidas. Contemplen por un momento las gracias del momento presente descritas en la Escritura. Moisés fue inspirado a subir a la montaña para recibir los Diez Mandamientos. Noé fue inspirado a construir el arca. Las personas de Nínive fueron inspiradas a arrepentirse. Estas fueron gracias monumentales del momento presente. Pero Yo les digo, si no aprenden a escuchar las gracias de cada momento presente, es muy posible que pierdan las importantísimas inspiraciones que Yo envío a sus corazones y a sus vidas. Ninguna gracia es irrelevante; independientemente de lo pequeña que parezca. Aprendan a reconocer incluso la gracia más pequeña para que no pierdan las gracias más grandes que Yo les envío."

Lean Efesios 2:4-5




Pero Dios, que es rico en misericordia, por el gran amor con que nos amó, precisamente cuando estábamos muertos a causa de nuestros pecados, nos hizo revivir con Cristo –¡ustedes han sido salvados gratuitamente!–..
RE: Latest messages are at Holy Love Ministries (www.holylove.org) and Ministerios del Amor Santo (www.amorsanto.com)