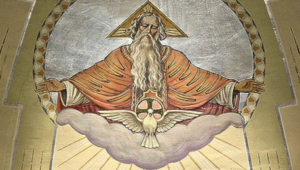 September 4, 2021
Once again, I (Maureen) see a Great Flame that I have come to know as the Heart of God the Father. He says: "Children, always be aware of Satan's attacks upon your peace of heart. When you pray, do not allow the evil one to transform the petitions you hold in your hearts into worries. Pray with faith in My Omnipotent Power to overcome any situation with My Love and My Grace."

"The times of unusual stress are upon the world. Many petitions are offered now which even a decade ago would not have been deemed necessary. This is due to the fact that consciences have been convoluted and the Truth challenged on all sides. Each day, pray to Mary, Protectress of the Faith to stand your ground in an unbelieving world. Satan cannot foster fear in such a heart."

Read 2 Timothy 4:1-5+




I charge you in the presence of God and of Christ Jesus who is to judge the living and the dead, and by his appearing and his kingdom: preach the word, be urgent in season and out of season, convince, rebuke, and exhort, be unfailing in patience and in teaching. For the time is coming when people will not endure sound teaching, but having itching ears they will accumulate for themselves teachers to suit their own likings, and will turn away from listening to the truth and wander into myths. As for you, always be steady, endure suffering, do the work of an evangelist, fulfil your ministry.

+ Scripture verses asked to be read by God the Father.

 

4 de Septiembre del 2021
Nuevamente veo una gran llama que he llegado a reconocer como el Corazón de Dios Padre. Dice: "Hijos, tengan cuidado siempre de los ataques de Satanás contra la paz en sus corazones. Cuando recen, no permitan que el maligno transforme en preocupaciones las peticiones que ustedes tienen en el corazón. Recen con fe en Mi poder omnipotente para superar cualquier situación con Mi amor y Mi gracia."

"Los tiempos de estrés inusual están sobre el mundo. Ahora se hacen muchas peticiones que incluso una década atrás no se hubieran considerado necesarias. Esto se debe a que las conciencias se han retorcido y la verdad se ha desafiado por todos lados. Pídanle todos los días a María, Protectora de la Fe, que los mantenga firmes en un mundo sin fe. Satanás no puede fomentar el miedo en un corazón así."

Lean 2ª Timoteo 4:1-5




Yo te conjuro delante de Dios y de Cristo Jesús, que ha de juzgar a los vivos y a los muertos, y en nombre de su Manifestación y de su Reino: proclama la Palabra de Dios, insiste con ocasión o sin ella, arguye, reprende, exhorta, con paciencia incansable y con afán de enseñar. Porque llegará el tiempo en que los hombres no soportarán más la sana doctrina; por el contrario, llevados por sus inclinaciones, se procurarán una multitud de maestros que les halaguen los oídos, y se apartarán de la verdad para escuchar cosas fantasiosas. Tú, en cambio, vigila atentamente, soporta todas las pruebas, realiza tu tarea como predicador del Evangelio, cumple a la perfección tu ministerio.
RE: Latest messages are at Holy Love Ministries (www.holylove.org) and Ministerios del Amor Santo (www.amorsanto.com)