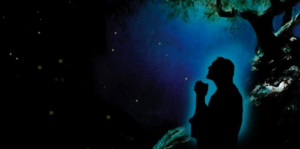 October 25, 2021
Once again, I (Maureen) see a Great Flame that I have come to know as the Heart of God the Father. He says: "Every situation is under My Domain – nothing occurs in a person's life or in the soul itself that I am unaware of. It is true, however, that prayer changes things. Prayer can bend the stubborn will, change events to favor good, even help souls to accept difficulties. I use every situation to bring hearts closer to Me. No event or situation is useless. The good fruit is there and will eventually come to light."

"There are times when free will does not choose righteousness. It is then I offer other choices to draw the soul back onto the path of salvation. Do not let Satan step in to discourage you. My Grace is always working towards the welfare of each soul. I place people or opportunities in each one's life to draw them onto the path of salvation."

"When you pray, pray for souls to make the right decisions according to My Laws."

Read 1 Peter 5:10-11+

And after you have suffered a little while, the God of all grace, who has called you to his eternal glory in Christ, will Himself restore, establish, and strengthen you. To Him be the dominion for ever and ever. Amen.

+ Scripture verses asked to be read by God the Father.

 

25 de Octubre del 2021
Nuevamente veo una gran llama que he llegado a reconocer como el Corazón de Dios Padre. Dice: "Cada situación está bajo Mi dominio; nada ocurre en la vida de una persona o en el alma misma que Yo no sepa. Sin embargo, es cierto que la oración cambia las cosas. La oración puede hacer que la voluntad obstinada se doblegue, puede hacer que cambien los acontecimientos en favor del bien, incluso puede ayudar a las almas a aceptar las dificultades. Yo utilizo cada situación para hacer que las almas se acerquen más a Mí. Ningún acontecimiento o situación es inútil. El buen fruto está ahí y eventualmente saldrá a la luz."

"Hay tiempos en los que el libre albedrío no elige la rectitud. Es entonces cuando Yo ofrezco otras opciones para atraer al alma de regreso al sendero de la salvación. No permitan que Satanás intervenga para desanimarlos. Mi gracia siempre está actuando por el bienestar de cada alma. Yo pongo oportunidades o personas en la vida de cada uno para atraerlos al sendero de la salvación."

"Cuando recen, pidan que las almas tomen las decisiones correctas conforme a Mis leyes."

Lean 1ª Pedro 5:10-11




El Dios de toda gracia, que nos ha llamado a su gloria eterna en Cristo, después que hayan padecido un poco, los restablecerá y confirmará, los hará fuertes e inconmovibles. ¡A él sea la gloria y el poder eternamente! Amén.
RE: Latest messages are at Holy Love Ministries (www.holylove.org) and Ministerios del Amor Santo (www.amorsanto.com)