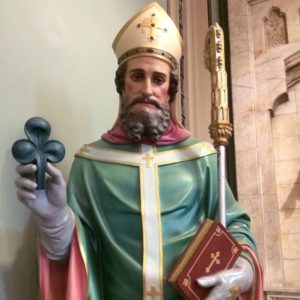 March 17, 2021
St. Patrick says: "Praise be to Jesus."

"Back in the day, in the times of my evangelization in Ireland, I had to put my own needs last including my own safety. I had to place the spirituality of the heathen population of Ireland first. Today, I could be doing it all over again, this time in the whole world. You do not see the many sins all over the world as I do. There are countless sacrileges against the Holy Eucharist.* The human body has become a sinful playground. The Commandments are not a consideration in most hearts."

"These Messages** are God's way of lifting the fog from the consciences of most people. People do not pray as they should be. Prayer should be a priority as a means of exposing and combating evil. These Messages are the awakening and the salvation of a small portion of the population. God needs your prayers in even greater numbers. Pray that these Messages receive an even greater audience. Pray that these Messages are a catalyst towards the conversion of the world."

Read Hebrews 2:1-4+

Therefore we must pay the closer attention to what we have heard, lest we drift away from it. For if the message declared by angels was valid and every transgression or disobedience received a just retribution, how shall we escape if we neglect such a great salvation? It was declared at first by the Lord, and it was attested to us by those who heard him, while God also bore witness by signs and wonders and various miracles and by gifts of the Holy Spirit distributed according to his own will.

+ Scripture verses asked to be read by St. Patrick.

 

17 de Marzo del 2021
Fiesta de san Patricio
San Patricio dice: "Alabado sea Jesús."

"Hace tiempo, cuando yo evangelicé en Irlanda, tuve que dejar mis necesidades en último lugar, incluyendo mi propia seguridad. Tuve que poner en primer lugar la espiritualidad de la población pagana de Irlanda. Hoy podría volver a hacerlo todo, esta vez en el mundo entero. Ustedes no ven la cantidad de pecados en todo el mundo como yo lo veo. Existen incontables sacrilegios en contra de la Sagrada Eucaristía. El cuerpo humano se ha convertido en un campo de pecado. Los mandamientos no son una consideración para la mayoría de los corazones."

"Estos Mensajes son la manera en que Dios quita la niebla en la conciencia de la mayoría de las personas. La gente no reza como debería. La oración debe ser una prioridad como un medio para exponer y combatir el mal. Estos Mensajes son el despertar y la salvación de una pequeña parte de la población. Dios necesita sus oraciones en mayor cantidad aún. Recen pidiendo que estos Mensajes reciban una audiencia aún más grande. Recen para que estos Mensajes sean un catalizador para la conversión del mundo."

Lean Hebreos 2:1-4




Por eso, nosotros debemos prestar más atención a lo que hemos escuchado, no sea que marchemos a la deriva. Porque si la Palabra promulgada por medio de los ángeles tuvo plena vigencia, a tal punto que toda transgresión y desobediencia recibió su justa retribución, ¿cómo nos libraremos nosotros, si rehusamos semejante salvación? Esta salvación, anunciada en primer lugar por el Señor, nos fue luego confirmada por todos aquellos que la habían oído anunciar, mientras Dios añadía su testimonio con signos y prodigios, con toda clase de milagros y con los dones del Espíritu Santo, distribuidos según su voluntad.
RE: Latest messages are at Holy Love Ministries (www.holylove.org) and Ministerios del Amor Santo (www.amorsanto.com)