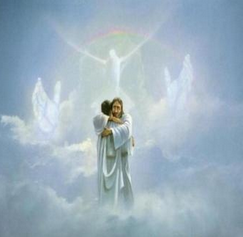 October 18, 2020 Once again, I (Maureen) see a Great Flame that I have come to know as the Heart of God the Father. He says: "Children, rest in My Arms. Recline in My Heart. Do not let these troubling times take a toll on the peace in your hearts. The present moment melts into the next present moment. Persevere in trust and in Holy Love. Know that I am always with you. I am your provision. Lack of trust is the bad fruit of trusting too much in yourself. Alone you will fail. Together we can change the heart of the world."

"To trust in Me means you no longer give in to selfish ambition, love of power or blind trust in evil people. Allow Me to deliver you of all of that. Believe in My Grace which transforms and delivers you. Then you will plainly see that lawlessness is not of Me – it is a surrender to sin. Sanctuaries of sin are the devil's folly."

"Children, pursue peace."

Read 1 John 3:4-8+

Every one who commits sin is guilty of lawlessness; sin is lawlessness. You know that he appeared to take away sins, and in him there is no sin. Any one who abides in him does not sin; any one who sins has not seen him, nor has he known him. Little children, let no one deceive you. He who does right is righteous, as he is righteous. He who commits sin is of the devil; for the devil has sinned from the beginning. The reason the Son of God appeared was to destroy the works of the devil.

Read Psalm 23:1-6+

The LORD is my shepherd, I shall not want;
he makes me lie down in green pastures.
He leads me beside still waters;
he restores my soul.
He leads me in paths of righteousness
for his name's sake.

Even though I walk through the valley of the shadow of death,
I fear no evil;
for thou art with me;
your rod and your staff,
they comfort me.

You prepare a table before me
in the presence of my enemies;
you anoint my head with oil,
my cup overflows.

Surely goodness and mercy shall follow me
all the days of my life;
and I shall dwell in the house of the LORD
for ever.

+ Scripture verses asked to be read by God the Father.

 

18 de Octubre del 2020
Nuevamente veo una gran llama que he llegado a reconocer como el Corazón de Dios Padre. Dice: "Hijos, descansen en Mis Brazos. Reclínense en Mi Corazón. No permitan que estos tiempos difíciles afecten la paz en sus corazones. El momento presente se funde en el siguiente momento presente. Perseveren en la confianza y en el Amor Santo. Sepan que Yo estoy siempre con ustedes. Yo soy su provisión. La falta de confianza es el mal fruto de confiar demasiado en ustedes mismos. Ustedes solos fracasarán; juntos, podemos cambiar el corazón del mundo."

"Confiar en Mí significa que ya no ceden a la ambición egoísta, al amor al poder o a la confianza ciega en la gente mala. Dejen que Yo los libre de todo eso. Crean en Mi gracia que los transforma y los libera. Entonces verán claramente que la anarquía no proviene de Mí; que es una rendición al pecado. Los santuarios del pecado son la locura del demonio."

"Hijos, busquen la paz."

Lean 1ª Juan 3:4-8
El que comete el pecado comete también la iniquidad, porque el pecado es la iniquidad. Pero ustedes saben que él se manifestó para quitar los pecados, y que él no tiene pecado. El que permanece en él, no peca, y el que peca no lo ha visto ni lo ha conocido. Hijos míos, que nadie los engañe: el que practica la justicia es justo, como él mismo es justo. Pero el que peca procede del demonio, porque el demonio es pecador desde el principio. Y el Hijo de Dios se manifestó para destruir las obras del demonio.

Salmo 23:1-6
El Señor es mi pastor, nada me puede faltar. Él me hace descansar en verdes praderas, me conduce a las aguas tranquilas y repara mis fuerzas; me guía por el recto sendero, por amor de su Nombre. Aunque cruce por oscuras quebradas, no temeré ningún mal, porque tú estás conmigo: tu vara y tu bastón me infunden confianza. Tú preparas ante mí una mesa, frente a mis enemigos; unges con óleo mi cabeza y mi copa rebosa. Tu bondad y tu gracia me acompañan a lo largo de mi vida; y habitaré en la Casa del Señor, por muy largo tiempo.
RE: Latest messages are at Holy Love Ministries and Ministerios del Amor Santo