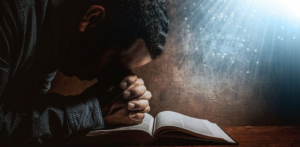 January 24, 2021
Once again, I (Maureen) see a Great Flame that I have come to know as the Heart of God the Father. He says: "I am the Eternal Father – the Eternal Now. There are two things I need from this country* in order to reverse the evils in which she now finds herself. One is reparation. The other is repentance. These two go together. Reparation repairs My Paternal Heart and the United Hearts of Jesus and Mary injured by the grave sin of abortion. This is accomplished through prayer and sacrifice. I have been calling you to this for decades through these Messages.** The other most important action the heart of this nation must take is repentance. Repentance is the reversal of sinful ways and a complete surrender to My Mercy. It is sorrow for sins just as reparation is. It is recognition of the soul's path to perdition he now travels and a desire to pursue the path of righteousness. This needs to be accomplished in the hearts of all those who participated in or supported abortion in any way."

"Evil has its grip on the soul of this nation. Underhanded ambition is now in charge. Good must unite and pursue the victory that is needed and hoped for. It is by each one's efforts this can happen."

Read 1 Timothy 2:1-4+

First of all, then, I urge that supplications, prayers, intercessions, and thanksgivings be made for all men, for kings and all who are in high positions, that we may lead a quiet and peaceable life, godly and respectful in every way. This is good, and it is acceptable in the sight of God our Savior, who desires all men to be saved and to come to the knowledge of the truth.

Read Hebrews 3:12-14+

Take care, brethren, lest there be in any of you an evil, unbelieving heart, leading you to fall away from the living God. But exhort one another every day, as long as it is called "today," that none of you may be hardened by the deceitfulness of sin. For we share in Christ, if only we hold our first confidence firm to the end,

+ Scripture verses asked to be read by God the Father.

 

24 de Enero del 2021
Nuevamente veo una gran llama que he llegado a reconocer como el Corazón de Dios Padre. Dice: "Yo soy el Padre Eterno, el Eterno Ahora. Hay dos cosas que necesito de este País a fin de revertir los males en los que ahora se encuentra. Una es la expiación. La otra es el arrepentimiento. Ambas van juntas. La expiación repara Mi Corazón Paternal y los Corazones Unidos de Jesús y María que están heridos por el grave pecado del aborto. Esto se logra mediante la oración y el sacrificio. Los he llamado a esto por décadas a través de estos Mensajes. La otra acción más importante que debe tomar el corazón de esta Nación es el arrepentimiento. El arrepentimiento es dejar atrás los hábitos pecaminosos y rendirse completamente a Mi misericordia. Es tener dolor por los pecados, tal como sucede con la expiación. Es reconocer el camino a la perdición que ahora sigue el alma y tener el deseo de seguir el camino de la rectitud. Es necesario que esto se realice en los corazones de todos los que participaron en el aborto o lo apoyaron de cualquier manera."

"El mal tiene el dominio sobre el alma de esta Nación. La ambición deshonesta está a cargo ahora. El bien debe unirse y buscar la victoria que se necesita y se espera. Esto puede suceder por los esfuerzos de cada persona."

Lean 1ª Timoteo 2:1-4




Ante todo, te recomiendo que se hagan peticiones, oraciones, súplicas y acciones de gracias por todos los hombres, por los soberanos y por todas las autoridades, para que podamos disfrutar de paz y de tranquilidad, y llevar una vida piadosa y digna. Esto es bueno y agradable a Dios, nuestro Salvador, porque él quiere que todos se salven y lleguen al conocimiento de la verdad.

Hebreos 3:12-14
Tengan cuidado, hermanos, no sea que alguno de ustedes tenga un corazón tan malo que se aparte del Dios viviente por su incredulidad. Antes bien, anímense mutuamente cada día mientras dure este hoy, a fin de que nadie se endurezca, seducido por el pecado. Porque hemos llegado a ser partícipes de Cristo, con tal que mantengamos firmemente hasta el fin nuestra actitud inicial.
RE: Latest messages are at Holy Love Ministries and Ministerios del Amor Santo