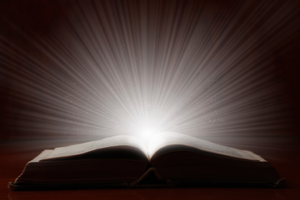 January 12, 2021
Once again, I (Maureen) see a Great Flame that I have come to know as the Heart of God the Father. He says: "Today, I speak to you, children, once again, to help you to understand the times in which you live. The greatest threat international and personal well-being is that evil is not recognized for what it is. This keeps mankind bound up in lack of reality as to why certain events take place and will take place. Man is caught off guard as to the evil in hearts. The trustworthy individual is easily tricked by the nefarious plots of evil."

"I speak, therefore, to advance wisdom in your hearts as to Satan's existence and his plans to use a One World Order to his advantage. Anyone united must be led; Satan proposes a One World Government and Religion to allow his evil an opportunity to take charge. Pray for this generation to have righteous wisdom – Heavenly wisdom, which will enable souls to realize how and where they are being led."

Read James 3:13-18+




Who is wise and understanding among you? By his good life let him show his works in the meekness of wisdom. But if you have bitter jealousy and selfish ambition in your hearts, do not boast and be false to the truth. This wisdom is not such as comes down from above, but is earthly, unspiritual, devilish. For where jealousy and selfish ambition exist, there will be disorder and every vile practice. But the wisdom from above is first pure, then peaceable, gentle, open to reason, full of mercy and good fruits, without uncertainty or insincerity. And the harvest of righteousness is sown in peace by those who make peace.

+ Scripture verses asked to be read by God the Father.

 

12 de Enero del 2021
Nuevamente veo una gran llama que he llegado a reconocer como el Corazón de Dios Padre. Dice: "Hijos, hoy les hablo una vez más para ayudarlos a comprender los tiempos en los que viven. La amenaza más grande al bienestar internacional y personal es que no se reconoce al mal por lo que es. Esto mantiene a la humanidad atada a la falta de realismo del porqué suceden y sucederán ciertos acontecimientos. El hombre es tomado por sorpresa en cuanto a la maldad que hay en los corazones. La persona confiable es fácilmente engañada por las intrigas perversas del mal."

"Por lo tanto, Yo hablo aquí para fomentar la sabiduría en sus corazones sobre la existencia de Satanás y sus planes para utilizar un Orden Mundial Único a su favor. Cualquiera que esté unido tiene que ser guiado; Satanás propone un gobierno y religión mundial únicos para que su maldad tenga oportunidad de tomar el control. Recen por esta generación para que tenga sabiduría recta; sabiduría celestial, que propiciará que las almas se den cuenta de cómo y hacia dónde están siendo guiadas."

Lean Santiago 3:13-18




El que se tenga por sabio y prudente, demuestre con su buena conducta que sus actos tienen la sencillez propia de la sabiduría. Pero si ustedes están dominados por la rivalidad y por el espíritu de discordia, no se vanaglorien ni falten a la verdad. Semejante sabiduría no desciende de lo alto, sino que es terrena, sensual y demoníaca. Porque donde hay rivalidad y discordia, hay también desorden y toda clase de maldad. En cambio, la sabiduría que viene de lo alto es, ante todo, pura; y además, pacífica, benévola y conciliadora; está llena de misericordia y dispuesta a hacer el bien; es imparcial y sincera. Un fruto de justicia se siembra pacíficamente para los que trabajan por la paz.
RE: Latest messages are at Holy Love Ministries and Ministerios del Amor Santo