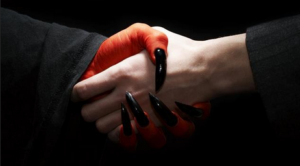 October 1, 2021
Once again, I (Maureen) see a Great Flame that I have come to know as the Heart of God the Father. He says: "Children, Satan is rallying now to snatch as many souls as he can before his time is exhausted. Most souls do not grasp that every present moment is spiritual warfare. Therefore, they do not look for the ways Satan is trying to insinuate his way into their hearts. If you do not see the war or the weapons of warfare, how can you win?"

"The Evil One takes pride in the ways he tricks you, My children, into misusing the graces you are allotted. Much good – technology, entertainment, styles of dress, even speech itself – has fallen into his evil grasp."

"Step out of the darkness into the Light of Wisdom – Holy Wisdom. Use all your human resources to build up My Kingdom on earth. Your recompense will be great in Heaven. My Kingdom is in hearts."

Read 2 Corinthians 1:12+

For our boast is this, the testimony of our conscience that we have behaved in the world, and still more toward you, with holiness and godly sincerity, not by earthly wisdom but by the grace of God.

+ Scripture verses asked to be read by God the Father.

 

1 de octubre de 2021
Una vez más, yo (Maureen) veo una Gran Llama que he llegado a conocer como el Corazón de Dios Padre. Dice: "Hijos, Satanás se está reuniendo ahora para arrebatar tantas almas como pueda antes de que se agote su tiempo. La mayoría de las almas no comprenden que cada momento presente es una guerra espiritual. Por lo tanto, no buscan las formas en que Satanás está tratando de atacar. insinúa su camino en sus corazones. Si no ves la guerra o las armas de guerra, ¿cómo vas a ganar? "

"El Maligno se enorgullece de la forma en que los engaña, hijos Míos, para que hagan un mal uso de las gracias que se les asignan. Mucho bien – la tecnología, el entretenimiento, los estilos de vestimenta, incluso el habla en sí – ha caído en sus manos malvadas".

"Sal de las tinieblas hacia la Luz de la Sabiduría, la Santa Sabiduría. Usa todos tus recursos humanos para construir Mi Reino en la tierra. Tu recompensa será grande en el Cielo. Mi Reino está en los corazones".

Lea 2 Corintios 1:12 en adelante

Porque esta es nuestra gloria, el testimonio de nuestra conciencia de que nos hemos portado en el mundo, y más aún para con ustedes, con santidad y sinceridad piadosa, no por sabiduría terrenal, sino por la gracia de Dios.

+ Los versículos de las Escrituras pidieron ser leídos por Dios el Padre.
RE: Latest messages are at Holy Love Ministries (www.holylove.org) and Ministerios del Amor Santo (www.amorsanto.com)