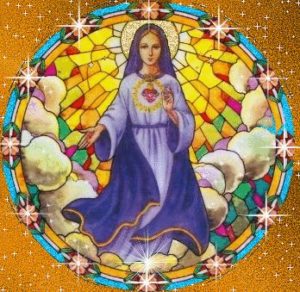 August 17, 2021
Once again, I (Maureen) see a Great Flame that I have come to know as the Heart of God the Father. He says: "Children, secure your faith within the Heart of the Holy Mother.* These days, faith is under attack more than ever before. The culture of the day promotes independence. Freedom from God is really slavery to sin. Truth and faith go hand in hand. Faith in Me is also trust in Me."

"I speak to you through this Messenger** not to excite you about the future or to inform you of future events, but to build up your faith and trust in Me, so you will be ready to deal with any calamity. Those who trust simply in the passing things of this world are easy prey to the spirit of fear, anxiety and confusion in the midst of any crisis."

"Build your 'house' of spiritual holiness securely on faith based upon Holy Love. Then, I will hold you in My Paternal Heart and there will be no need of the knowledge of future events."

Read 1 Timothy 4:1-2, 6-10+

Now the Spirit expressly says that in later times some will depart from the faith by giving heed to deceitful spirits and doctrines of demons, through the pretensions of liars whose consciences are seared. If you put these instructions before the brethren, you will be a good minister of Christ Jesus, nourished on the words of the faith and of the good doctrine which you have followed. Have nothing to do with godless and silly myths. Train yourself in godliness; for while bodily training is of some value, godliness is of value in every way, as it holds promise for the present life and also for the life to come. The saying is sure and worthy of full acceptance. For to this end we toil and strive, because we have our hope set on the living God, who is the Savior of all men, especially of those who believe.

+ Scripture verses asked to be read by God the Father. (Please note: all Scripture given by Heaven refers to the Bible used by the visionary. Ignatius Press – Holy Bible – Revised Standard Version – Second Catholic Edition.)

* Blessed Virgin Mary.

 

17 de Agosto del 2021
Nuevamente veo una gran llama que he llegado a reconocer como el Corazón de Dios Padre. Dice: "Hijos, aseguren su fe dentro del Corazón de la Santa Madre. Hoy, más que nunca, la fe está bajo ataque. La cultura moderna promueve ser independiente. Estar libres de Dios es en realidad ser esclavos del pecado. La verdad y la fe van de la mano. La fe en Mí también es confiar en Mí."

"Yo no les hablo a través de esta Mensajera para entusiasmarlos sobre el futuro ni para informarles de acontecimientos futuros, sino para edificar su fe y su confianza en Mí, a fin de que estén preparados para lidiar con cualquier calamidad. Quienes confían nada más en las cosas pasajeras de este mundo son presa fácil del espíritu del miedo, de la ansiedad y la confusión que hay en medio de toda crisis."

"Construyan su casa espiritual de la santidad de manera firme con la fe basada en el Amor Santo. Entonces, Yo los sostendré en Mi Corazón Paternal y ahí no habrá necesidad de saber los acontecimientos futuros."

Lean 1ª Timoteo 4:1-2, 6-10




El Espíritu afirma claramente que en los últimos tiempos habrá algunos que renegarán de su fe, para entregarse a espíritus seductores y doctrinas demoníacas, seducidos por gente mentirosa e hipócrita, cuya conciencia está marcada a fuego. …Si explicas todo esto a los hermanos, serás un buen servidor de Cristo Jesús, alimentado por las enseñanzas de la fe y de la buena doctrina que siempre seguiste fielmente. Rechaza esos mitos ridículos, esos cuentos de viejas, y ejercítate en la piedad. Los ejercicios físicos son de poca utilidad; la piedad, en cambio, es útil para todo, porque encierra una promesa de Vida para el presente y para el futuro. Esta es doctrina cierta y absolutamente digna de fe. Nosotros nos fatigamos y luchamos porque hemos puesto nuestra esperanza en el Dios viviente, que es el Salvador de todos los hombres, especialmente de los que creen.
RE: Latest messages are at Holy Love Ministries (www.holylove.org) and Ministerios del Amor Santo (www.amorsanto.com)