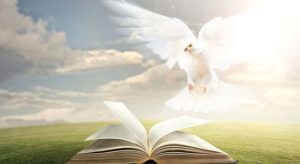 May 29, 2021
Saturday of the Octave of Pentecost
Once again, I (Maureen) see a Great Flame that I have come to know as the Heart of God the Father. He says: "Selfish ambition is the spirit which is destroying souls and the soul of the world. The soul who concerns himself only with what will benefit himself is responsible for wars, tyranny and all disordered politics. I say it is a spirit since it destroys the soul's journey in holiness and very often the holiness of many who are influenced around him."

"The course of human history manifests this. Every evil dictator has been the servant of this spirit. Every disordered government is the product of this ambition. Many God-fearing governments are under attack by such a spirit, even as I speak to you this day. This same spirit is the cause of the rise of drug abuse, the dismantling of the family unit and the popularity of abortion."

"The deliverance of this spirit from the heart of the world can only be accomplished through a conscious effort to renounce self and live in pursuit of the welfare of others. Until this becomes a priority — both in public life and in private life, the world will suffer the bad fruits of pursuit of disordered self-love."

Read 2 Timothy 3:1-5 +




So we do not lose heart. Though our outer man is wasting away, our inner man is being renewed every day. For this slight momentary affliction is preparing for us an eternal weight of glory beyond all comparison, because we look not to the things that are seen but to the things that are unseen; for the things that are seen are transient, but the things that are unseen are eternal.

+ Scripture verses asked to be read by God the Father.

 

29 de Mayo del 2021
Nuevamente veo una gran llama que he llegado a reconocer como el Corazón de Dios Padre. Dice: "El espíritu que está destruyendo a las almas y al alma del mundo es el espíritu de la ambición egoísta. El alma que solo se preocupa por lo que la va a beneficiar a ella es responsable de guerras, tiranía y de toda política desordenada. Lo llamo 'espíritu' porque arruina el viaje del alma a la santidad y, muchas veces, arruina la santidad de muchos que se influenciaron a su alrededor."

"El curso de la historia humana pone esto de manifiesto. Cada dictador malvado ha sido siervo de este espíritu. Cada gobierno desordenado es producto de esta ambición. Muchos gobiernos que tienen temor de Dios están bajo ataque por este espíritu, incluso mientras les hablo hoy. Este mismo espíritu es la causa del incremento del abuso de drogas, de la disolución de la unión familiar y de la popularidad del aborto."

"Liberar al corazón del mundo de este espíritu solo puede lograrse por medio de un esfuerzo consciente por renunciar al yo y por vivir en la búsqueda del bienestar de los demás. Hasta que esto se vuelva una prioridad, tanto en la vida pública como en la privada, el mundo sufrirá los malos frutos de buscar el amor propio desordenado."

Lean 2ª Timoteo 3:1-5




Quiero que sepas que en los últimos tiempos sobrevendrán momentos difíciles. Porque los hombres serán egoístas, amigos del dinero, jactanciosos, soberbios, difamadores, rebeldes con sus padres, desagradecidos, impíos, incapaces de amar, implacables, calumniadores, desenfrenados, crueles, enemigos del bien, traidores, aventureros, obcecados, más amantes de los placeres que de Dios; y aunque harán ostentación de piedad, carecerán realmente de ella. ¡Apártate de esa gente!
RE: Latest messages are at Holy Love Ministries (www.holylove.org) and Ministerios del Amor Santo (www.amorsanto.com)