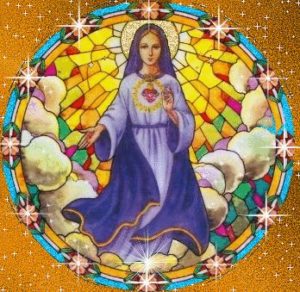 January 21, 2021
Once again, I (Maureen) see a Great Flame that I have come to know as the Heart of God the Father. He says: "Children, I speak, once again, to help you to embrace personal holiness and to build the hospice of your hearts strong in this regard. This is all that is not passing in this life. Let your hearts embrace obedience to My Commandments. The first and foremost of which is to love Me above all else. The second is to love your neighbor as yourself. To obey these Two Commandments is to obey all of the Commandments. This is Holy Love. This is the victory you must conquer in your own hearts. It is not a one-time victory, but a battle which must be fought moment by moment every day."

"Years ago, on this date, I sent the Holy Mother to this Messenger.* She proclaimed, at My Command, to be recognized as the Protectress of the Faith. This was not accepted in Church circles as 'necessary'.** Now, I ask you, look at the state of faith in the world today. How great is the need for Her Holy Protection! She instantly comes to the aid of anyone who calls upon Her under this title. The problem today is people have become blindsided as to what challenges their faith. Furthermore, faith is not deemed that important anymore. Is it any wonder I come to you during these times, imploring you to win the victory of personal holiness in your hearts?"

Read 1 John 3:19-24+

By this we shall know that we are of the truth, and reassure our hearts before him whenever our hearts condemn us; for God is greater than our hearts, and he knows everything. Beloved, if our hearts do not condemn us, we have confidence before God; and we receive from him whatever we ask, because we keep his commandments and do what pleases him. And this is his commandment, that we should believe in the name of his Son Jesus Christ and love one another, just as he has commanded us. All who keep his commandments abide in him, and he in them. And by this we know that he abides in us, by the Spirit which he has given us.

+ Scripture verses asked to be read by God the Father.
* Maureen Sweeney-Kyle.
** Note: After checking with a theologian from the Cleveland diocese, the bishop rejected Our Lady's request for the title 'Protectress of the Faith' stating that there already were too many devotions to Blessed Mother and the saints. Our Lady requested this title from the Cleveland bishop in 1987.

 

21 de Enero del 2021
35th Aniversario de María, Protectora de la Fe
Nuevamente veo una gran llama que he llegado a reconocer como el Corazón de Dios Padre. Dice: "Hijos, una vez más hablo para ayudarlos a abrazar la santidad personal y construir el albergue en sus corazones de manera sólida en ese aspecto. Se trata de todo lo que no es pasajero en esta vida. Que sus corazones abracen la obediencia a Mis mandamientos. El primero y más importante de ellos es amarme a Mí por sobre todas las cosas. El segundo es amar a su prójimo como a ustedes mismos. Obedecer estos dos mandamientos es obedecerlos todos. Eso es el Amor Santo; es la victoria que tienen que conquistar en sus corazones. No es una victoria única, sino es una batalla que debe librarse todos los días a cada instante."

"Años atrás, en esta fecha, envié a la Santa Madre a esta Mensajera. Ella, por mandato Mío, indicó que se le reconociera como la Protectora de la Fe. Los círculos de la Iglesia no aceptaron esto como algo 'necesario'. Ahora les pido que vean cómo está la fe en el mundo de hoy. ¡Qué grande es la necesidad de Su santa protección! Ella, al instante, va al auxilio de cualquiera que la invoca bajo este Título. El problema actual es que las personas se han vuelto ciegas a lo que desafía su fe. Más aún, la fe ya no se considera importante. ¿Es de extrañar que Yo venga en estos tiempos, implorándoles que ganen la victoria de la santidad personal en sus corazones?"

Lean 1ª Juan 3:19-24




En esto conoceremos que somos de la verdad, y estaremos tranquilos delante de Dios aunque nuestra conciencia nos reproche algo, porque Dios es más grande que nuestra conciencia y conoce todas las cosas. Queridos míos, si nuestro corazón no nos hace ningún reproche, podemos acercarnos a Dios con plena confianza, y él nos concederá todo cuanto le pidamos, porque cumplimos sus mandamientos y hacemos lo que le agrada. Su mandamiento es este: que creamos en el nombre de su Hijo Jesucristo, y nos amemos los unos a los otros como él nos ordenó. El que cumple sus mandamientos permanece en Dios, y Dios permanece en él; y sabemos que él permanece en nosotros, por el Espíritu que nos ha dado.
RE: Latest messages are at Holy Love Ministries and Ministerios del Amor Santo