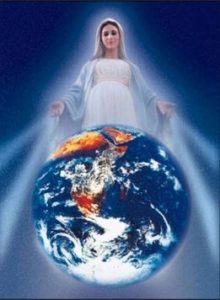 August 31, 2021
Once again, I (Maureen) see a Great Flame that I have come to know as the Heart of God the Father. He says: "Children, begin to prepare your hearts for October 7th* when the Holy Mother** will come to be with you and speak to you. She will come as My Emissary and as a precursor to certain events in the world. I have patiently withheld My Arm of Justice at Her request. However, it is becoming more and more difficult to do so, as My patience wears thin."

"Satan has made unprecedented inroads into the hearts of many people of power and influence. These days, many wear masks as protection from disease, yet, do not protect their souls from occasions of sin. Time is fast-becoming the enemy of the general well-being of the world population."

"My Words are not unwarranted, but come to you through time and space to pronounce a stern warning of the need for repentance. Perfect your hearts in Holy Love. This is the only preparation that is important to your eternal welfare. What I am saying may seem simplistic, however, it must be acted upon for My Anguished Heart to be soothed."

Read Philippians 2:12-13+

Therefore, my beloved, as you have always obeyed, so now, not only as in my presence but much more in my absence, work out your own salvation with fear and trembling; for God is at work in you, both to will and to work for his good pleasure.

+ Scripture verses asked to be read by God the Father.

 

31 de Agosto del 2021
Nuevamente veo una gran llama que he llegado a reconocer como el Corazón de Dios Padre. Dice: "Hijos, empiecen a preparar sus corazones para el 7 de octubre, cuando la Santa Madre vendrá para hablarles y estar con ustedes. Ella vendrá como emisaria Mía y como precursora de ciertos acontecimientos en el mundo. A petición Suya, Yo he detenido Mi Brazo de la Justicia pacientemente. Sin embargo, cada vez se vuelve más difícil hacerlo, pues Mi paciencia se agota."

"Satanás ha tenido incursiones sin precedentes en los corazones de muchas personas de poder e influencia. En la actualidad, muchos utilizan tapabocas para protegerse de las enfermedades, no obstante, no protegen sus almas de las ocasiones de pecado. El tiempo se esta convirtiendo rápidamente en el enemigo del bienestar general de la población del mundo."

"Mis palabras no son infundadas, sino que llegan a ustedes a través del tiempo y espacio para manifestar una severa advertencia sobre la necesidad de arrepentirse. Perfeccionen sus corazones en el Amor Santo. Esta es la única preparación que es importante para su bienestar eterno. Lo que estoy diciendo puede parecer simple, sin embargo, es lo que se tiene que hacer para que se calme Mi Corazón angustiado."

Lean Filipenses 2:12-13




Por eso, queridos míos, ustedes que siempre me han obedecido, trabajen por su salvación con temor y temblor, no solamente cuando estoy entre ustedes, sino mucho más ahora que estoy ausente. Porque Dios es el que produce en ustedes el querer y el hacer, conforme a su designio de amor.
RE: Latest messages are at Holy Love Ministries (www.holylove.org) and Ministerios del Amor Santo (www.amorsanto.com)