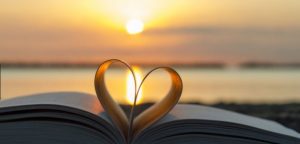 July 28, 2020 Once again, I (Maureen) see a Great Flame that I have come to know as the Heart of God the Father. He says: "Sometimes the flavor of the events in the world dictate Heaven's encounters with earth, such as our prayer events. Heaven respects the problems social distancing presents and also the need for this dictate during these times. Therefore, we will request a prayer day on My Feast Day,* not one big event where all join together at one specific time. Rather, those who come to the property** should join together spiritually throughout the day by means of private prayer from the heart. The Message I give will be read throughout the day off and on."

"This type of continual prayer confounds Satan as he cannot influence hearts to stop focusing on Me. It could be compared to a barrage of machine gun fire aimed at Satan himself. My Presence will be with you on the property that day, as well as, Blessed Mother's Presence and many angels. Remember, it is also the Feast of Mary, Queen of the Holy Angels."

"Come with faith-filled hearts and pray for My Intentions, Blessed Mother's Intentions and the intercession of the holy angels."

Read Psalm 62:7-8+

On God rests my deliverance and my honor; my mighty rock, my refuge is God. Trust in him at all times, O people; pour out your heart before him; God is a refuge for us.

+ Scripture verses asked to be read by God the Father.

 

28 de Julio del 2020
Nuevamente veo una gran llama que he llegado a reconocer como el Corazón de Dios Padre. Dice: "Algunas veces, el aroma de los eventos en el mundo inspira los encuentros del Cielo con la tierra, tal como nuestros eventos de oración. El Cielo respeta los problemas que presenta el distanciamiento social y también la necesidad de esta regla durante estos tiempos. Por lo tanto, solicitaremos un día de oración en Mi festividad; no será un evento grande donde todos se reúnan a una hora específica. En vez de eso, quienes vengan a la propiedad deben reunirse de manera espiritual a lo largo del día mediante la oración privada desde el corazón. El mensaje que dé se estará leyendo de vez en cuando durante todo el día."

"Este tipo de oración continua confunde a Satanás, pues no podrá influenciar a los corazones para que dejen de enfocarse en Mí. Podría compararse con una ráfaga de disparos dirigidos a Satanás mismo. Mi presencia estará con ustedes en la propiedad ese día, así como también la presencia de la Santísima Virgen y de muchos ángeles. Recuerden, también es la fiesta de María, Reina de los Ángeles."

"Vengan con corazones llenos de fe, y recen por Mis intenciones, por las intenciones de la Santísima Virgen y por la intercesión de los santos ángeles."

Lean Salmo 62:8-9
Mi salvación y mi gloria están en Dios: él es mi Roca firme, en Dios está mi refugio. Confíen en Dios constantemente, ustedes, que son su pueblo, desahoguen en él su corazón, porque Dios es nuestro refugio.
RE: Latest messages are at Holy Love Ministries and Ministerios del Amor Santo