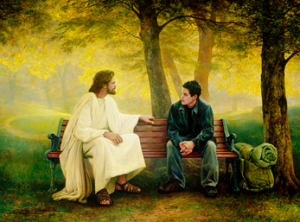 February 6, 2021
Once again, I (Maureen) see a Great Flame that I have come to know as the Heart of God the Father. He says: "Allow your greatest treasure to be your relationship with Me. The majority of people do not allow Me into their hearts, but remain centered on their earthly existence. Some believe, if they turn to Me at the last moment of life, that is sufficient to be saved. They do not take into account the fact that many die a sudden death without sufficient time to repent. Then, too, is the fact that their moments on earth which they lived in sin diminishes their joy in Heaven."

"So many live this way, allowing fate to determine their eternity. Such as these, let so many present moments slip by without investing in their eternal life. So, I remind you, that time is a gift. Invest in a life centered on Me. Do not allow any worldly interest to take precedence over your love of Me and love of your neighbor. This is Heavenly wisdom."

Read James 3:13-18+

Who is wise and understanding among you? By his good life let him show his works in the meekness of wisdom. But if you have bitter jealousy and selfish ambition in your hearts, do not boast and be false to the truth. This wisdom is not such as comes down from above, but is earthly, unspiritual, devilish. For where jealousy and selfish ambition exist, there will be disorder and every vile practice. But the wisdom from above is first pure, then peaceable, gentle, open to reason, full of mercy and good fruits, without uncertainty or insincerity. And the harvest of righteousness is sown in peace by those who make peace.

+ Scripture verses asked to be read by God the Father. (Please note: all Scripture given by Heaven refers to the Bible used by the visionary. Ignatius Press – Holy Bible – Revised Standard Version – Second Catholic Edition.)

 

6 de Febrero del 2021
Nuevamente veo una gran llama que he llegado a reconocer como el Corazón de Dios Padre. Dice: "Permitan que su tesoro más grande sea su relación Conmigo. La mayoría de las personas no me deja entrar en sus corazones, sino que permanecen centrados en su existencia terrenal. Algunos creen que, si se vuelven a Mí en el último momento de la vida, eso es suficiente para salvarse. No toman en cuenta el hecho de que muchos mueren de manera súbita sin tiempo suficiente para arrepentirse. Luego está también el hecho de que los momentos en la tierra que vivieron en pecado disminuye su gozo en el Cielo."

"Son muchos los que viven así, dejando que el destino determine su eternidad. Personas así dejan que muchos momentos presentes se escapen sin invertir en su vida eterna. Así que les recuerdo que el tiempo es un regalo. Inviertan en una vida centrada en Mí. No permitan que ningún interés mundano tenga prioridad sobre su amor por Mí y por su prójimo. Esto es sabiduría celestial."

Lean Santiago 3:13-18




El que se tenga por sabio y prudente, demuestre con su buena conducta que sus actos tienen la sencillez propia de la sabiduría. Pero si ustedes están dominados por la rivalidad y por el espíritu de discordia, no se vanaglorien ni falten a la verdad. Semejante sabiduría no desciende de lo alto sino que es terrena, sensual y demoníaca. Porque donde hay rivalidad y discordia, hay también desorden y toda clase de maldad. En cambio, la sabiduría que viene de lo alto es, ante todo, pura; y además, pacífica, benévola y conciliadora; está llena de misericordia y dispuesta a hacer el bien; es imparcial y sincera. Un fruto de justicia se siembra pacíficamente para los que trabajan por la paz.
RE: Latest messages are at Holy Love Ministries and Ministerios del Amor Santo