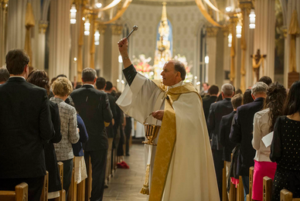 September 28, 2021
Once again, I (Maureen) see a Great Flame that I have come to know as the Heart of God the Father. He says: "If you are a warrior of Truth, then you are part of the Faithful Remnant. The Truth, of course, is Holy Love. The Faithful Remnant must remain united in the Truth which will carry you through these days of torment into the final victory."

"It is for the Truth to be the victory of these times that I continue to address you. Do not be misled by any evil which Satan designs to convolute the pure Truth of Holy Love."

"My Victory awaits in the wings as each of you is tested. Support one another with prayer. Use holy water as a barrier against evil. Do not fall into the evil trap of taking pride in Satan's attacks. Just oppose the evil. I am on your side. Amen."

Read 1 Timothy 4:1-5+

False Asceticism

Now the Spirit expressly says that in later times some will depart from the faith by giving heed to deceitful spirits and doctrines of demons, through the pretensions of liars whose consciences are seared, who forbid marriage and enjoin abstinence from foods which God created to be received with thanksgiving by those who believe and know the truth. For everything created by God is good, and nothing is to be rejected if it is received with thanksgiving;

for then it is consecrated by the word of God and prayer.

+ Scripture verses asked to be read by God the Father.

 

28 de Septiembre del 2021
Nuevamente veo una gran llama que he llegado a reconocer como el Corazón de Dios Padre. Dice: "Si ustedes son guerreros de la verdad, entonces son parte del Resto Fiel. La verdad, por supuesto, es el Amor Santo. El Resto Fiel tiene que permanecer unido en la verdad que los ayudará durante estos días de tormento hacia la victoria final."

"Yo sigo dirigiéndome a ustedes para que la verdad triunfe en estos tiempos. Que no los engañe ningún mal que Satanás diseñe para enmarañar la verdad pura del Amor Santo."

"Mi victoria está lista y dispuesta mientras cada uno de ustedes es probado. Apóyense mutuamente con la oración. Utilicen agua bendita como una barrera contra el mal. No caigan en la trampa maligna de enorgullecerse por los ataques de Satanás. Simplemente opónganse al mal. Yo estoy de su lado. Amén."

Lean 1ª Timoteo 4:1-5




El Espíritu afirma claramente que en los últimos tiempos habrá algunos que renegarán de su fe, para entregarse a espíritus seductores y doctrinas demoníacas, seducidos por gente mentirosa e hipócrita, cuya conciencia está marcada a fuego. Esa gente proscribe el matrimonio y prohíbe el consumo de determinados alimentos que Dios creó para que los creyentes y los conocedores de la verdad los comieran dando gracias. Todo lo que Dios ha creado es bueno, y nada es despreciable, si se lo recibe con acción de gracias, porque la Palabra de Dios y la oración lo santifican.
RE: Latest messages are at Holy Love Ministries (www.holylove.org) and Ministerios del Amor Santo (www.amorsanto.com)