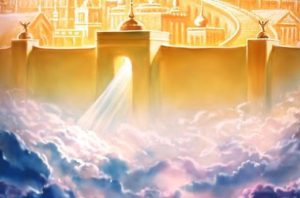 November 28, 2020
Once again, I (Maureen) see a Great Flame that I have come to know as the Heart of God the Father. He says: "Children, allow Me to be the center of your lives. Let all your endeavors be grounded in My Will. That is the way to be a success both in this world and in the next. That surrender of your free will to My Divine Will is the foretaste of the New Jerusalem. If you are experiencing a trial in this life, surrender it to Me by first accepting it – then, stand back, and see what I do. Even though it seems My solution is not to your liking, if you know Me, you trust in Me. I am aware of your every trial. In every situation, I invite you to be patient."

"My Will is all around you. Nothing in nature exists outside of My Will. All of time is My Will. The existence of every form of life – from conception to natural death is My Will. The soul who accepts that is at peace, for he knows I am in charge. If he trusts Me, he is ready to surrender to My Divine Will. Trust is the first step to surrender."

Read Ephesians 2:8-10+

For by grace you have been saved through faith; and this is not your own doing, it is the gift of God – not because of works, lest any man should boast. For we are his workmanship, created in Christ Jesus for good works, which God prepared beforehand, that we should walk in them.

Read Ephesians 5:15-17+

Look carefully then how you walk, not as unwise men but as wise, making the most of the time, because the days are evil. Therefore do not be foolish, but understand what the will of the Lord is.

+ Scripture verses asked to be read by God the Father.

 

28 de Noviembre del 2020
Nuevamente veo una gran llama que he llegado a reconocer como el Corazón de Dios Padre. Dice: "Hijos, permítanme ser el centro de sus vidas. Que todos sus esfuerzos estén basados en Mi Voluntad. Esta es la manera de tener éxito tanto en este mundo como en el siguiente. Esta rendición de su libre albedrío a Mi Divina Voluntad es el anticipo de la Nueva Jerusalén. Si están experimentando una prueba en esta vida, ríndanla a Mí aceptándola primero; después, retrocedan, y vean lo que Yo hago. Aunque parezca que Mi solución no es de su agrado, si me conocen, ustedes confían en Mí. Yo estoy al tanto de todas sus pruebas. Los invito a que sean pacientes en cada situación."

"Mi Voluntad está en todas partes. No hay nada en la naturaleza que exista al margen de Mi Voluntad. El tiempo es todo Voluntad Mía. La existencia de cada forma de vida, desde la concepción hasta la muerte natural, es Mi Voluntad. El alma que acepta esto está en paz, porque sabe que Yo estoy a cargo. Si confía en Mí, está lista para rendirse a Mi Divina Voluntad. La confianza es el primer paso para la rendición."

Lean Efesios 2:8-10




Porque ustedes han sido salvados por su gracia, mediante la fe. Esto no proviene de ustedes, sino que es un don de Dios; y no es el resultado de las obras, para que nadie se gloríe. Nosotros somos creación suya: fuimos creados en Cristo Jesús, a fin de realizar aquellas buenas obras, que Dios preparó de antemano para que las practicáramos.

Efesios 5:15-17 Cuiden mucho su conducta y no procedan como necios, sino como personas sensatas que saben aprovechar bien el momento presente, porque estos tiempos son malos. No sean irresponsables, sino traten de saber cuál es la voluntad del Señor.
RE: Latest messages are at Holy Love Ministries and Ministerios del Amor Santo