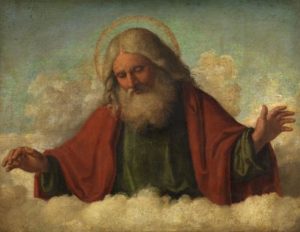 August 23, 2021
Once again, I (Maureen) see a Great Flame that I have come to know as the Heart of God the Father. He says: "The biggest mistake a soul can make is not loving Me enough. This fault leads to every sort of sin, for the soul is not focused on pleasing Me or on obedience to My Commandments. Remember, always, that My First Commandment is to love Me above all else. If the soul is focused on passing pleasures, he does not love Me enough to earn Heaven."

"Millions of souls suffer the eternal flames of Hell due to failure to keep this Commandment. When My Harvesting Angels visit earth in the end, they will have to cast out many souls who thought they lived good lives, but who did not love Me above all else."

"Many times, a soul is asked to choose according to obedience to this Commandment, but fails in his choices due to disordered self-love. It is important to form your day – your every present moment – around this Commandment."

Read Luke 6:46-49+




Hearers and Doers

"Why do you call me 'Lord, Lord,' and not do what I tell you? Every one who comes to me and hears my words and does them, I will show you what he is like: he is like a man building a house, who dug deep, and laid the foundation upon rock; and when a flood arose, the stream broke against that house, and could not shake it, because it had been well built. But he who hears and does not do them is like a man who built a house on the ground without a foundation; against which the stream broke, and immediately it fell, and the ruin of that house was great."

+ Scripture verses asked to be read by God the Father.

 

23 de Agosto del 2021
Nuevamente veo una gran llama que he llegado a reconocer como el Corazón de Dios Padre. Dice: "El error más grande que un alma puede cometer es no amarme lo suficiente. Esta falta lleva a todo tipo de pecado, pues el alma no está enfocada en agradarme a Mí ni en la obediencia a Mis mandamientos. Recuerden siempre que Mi Primer Mandamiento es amarme a Mí sobre todas las cosas. Si el alma está enfocada en los placeres pasajeros, no me ama lo suficiente para ganarse el Cielo."

"Millones de almas sufren las llamas eternas del Infierno debido a que fracasaron en cumplir este mandamiento. Al final, cuando los ángeles de la cosecha visiten la tierra, tendrán que expulsar a muchas almas que pensaban que vivían rectamente, pero que no me amaban sobre todas las cosas."

"Muchas veces, se le pide al alma que elija conforme a la obediencia de este mandamiento, pero falla en sus decisiones debido al amor propio desordenado. Es importante conformar su día –cada momento presente– en torno a este mandamiento."

Lean Lucas 6:46-49




¿Por qué ustedes me llaman: 'Señor, Señor', y no hacen lo que les digo? Yo les diré a quién se parece todo aquel que viene a mí, escucha mis palabras y las practica. Se parece a un hombre que, queriendo construir una casa, cavó profundamente y puso los cimientos sobre la roca. Cuando vino la creciente, las aguas se precipitaron con fuerza contra esa casa, pero no pudieron derribarla, porque estaba bien construida. En cambio, el que escucha la Palabra y no la pone en práctica, se parece a un hombre que construyó su casa sobre tierra, sin cimientos. Cuando las aguas se precipitaron contra ella, en seguida se derrumbó, y el desastre que sobrevino a esa casa fue grande.
RE: Latest messages are at Holy Love Ministries (www.holylove.org) and Ministerios del Amor Santo (www.amorsanto.com)