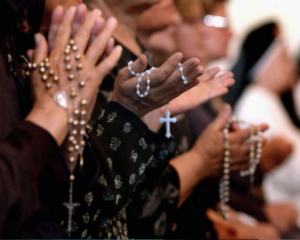 July 14, 2020 Once again, I (Maureen) see a Great Flame that I have come to know as the Heart of God the Father. He says: "These days, prayer is considered a last recourse. The days approach when prayer will be man's only recourse. I call for the days of prayer* now to lead mankind towards a more profound dependency upon Me and My Omnipotence. All of man's technology which he depends upon will one day fail him. I am trying to show the world the way to My Heart before it is too late. You cannot come to Me unless you follow My lead."

"Knowledge and pleasure have become gods in and of themselves and are leading mankind away from Me. It will be necessary to grab the heart of the world away from self-reliance back to dependency on Me. Do not wait for the hand of My action for this to happen. Turn to Me now."

Read 1 Timothy 4:1-2,7-8+
Now the Spirit expressly says that in later times some will depart from the faith by giving heed to deceitful spirits and doctrines of demons, through the pretensions of liars whose consciences are seared. Have nothing to do with godless and silly myths. Train yourself in godliness; for while bodily training is of some value, godliness is of value in every way, as it holds promise for the present life and also for the life to come.

+ Scripture verses asked to be read by God the Father.

 

14 de Julio del 2020
Nuevamente veo una gran llama que he llegado a reconocer como el Corazón de Dios Padre. Dice: "En estos días, la oración es considerada como un último recurso. Se acerca el tiempo en que la oración será el único recurso del hombre. Llamo ahora a los días de oración para guiar a la humanidad a depender más profundamente de Mí y de Mi omnipotencia. Un día fallará toda la tecnología de la que el hombre depende. Estoy tratando de mostrarle al mundo el camino a Mi Corazón antes de que sea demasiado tarde. No pueden venir a Mí si no siguen Mis órdenes."

"El conocimiento y el placer se han vuelto dioses en sí mismos y están llevando a la humanidad lejos de Mí. Será necesario arrebatar el corazón del mundo de la autosuficiencia para regresarlo a la dependencia de Mí. No esperen a que Yo actúe para que esto suceda. Confíen en Mí ahora."

Lean 1ª Timoteo 4:1-2, 7-8




El Espíritu afirma claramente que en los últimos tiempos habrá algunos que renegarán de su fe, para entregarse a espíritus seductores y doctrinas demoníacas, seducidos por gente mentirosa e hipócrita, cuya conciencia está marcada a fuego. …Rechaza esos mitos ridículos, esos cuentos de viejas, y ejercítate en la piedad. Los ejercicios físicos son de poca utilidad; la piedad, en cambio, es útil para todo, porque encierra una promesa de Vida para el presente y para el futuro.
RE: Latest messages are at Holy Love Ministries and Ministerios del Amor Santo