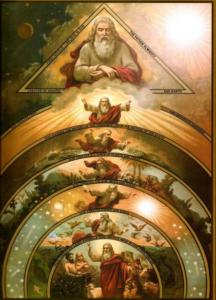 July 10, 2021
Once again, I (Maureen) see a Great Flame that I have come to know as the Heart of God the Father. He says: "Children, the depth of your love for Me is commensurate with the depth of your trust in Me. The deeper your love for Me, the deeper your love of My Commandments. If you love Me, you will desire to keep My Commandments. You will, out of love, seek to understand the depth and nuance of each Commandment – making certain you are obedient to each one in thought, word and deed."

"There is no question whom I choose to share My Kingdom with – for they have chosen Me through love of My Commandments. All are called to love Me unconditionally. Few there are who can abandon disordered self-love and obey My Commandments without compromise."

"I await each soul from My Throne in Paradise. My Arms are open, waiting to embrace even the most forgotten in the world. All the soul needs to do is turn to My Mercy."

Read 1 John 3:21-24+

Beloved, if our hearts do not condemn us, we have confidence before God; and we receive from him whatever we ask, because we keep his commandments and do what pleases him. And this is his commandment, that we should believe in the name of his Son Jesus Christ and love one another, just as he has commanded us. All who keep his commandments abide in him, and he in them. And by this we know that he abides in us, by the Spirit which he has given us.

+ Scripture verses asked to be read by God the Father.

 

10 de Julio del 2021
Nuevamente veo una gran llama que he llegado a reconocer como el Corazón de Dios Padre. Dice: "Hijos, la profundidad de su amor por Mí es equivalente a la profundidad de su confianza en Mí. Mientras más profundo su amor por Mí, más profundo su amor por Mis mandamientos. Si me aman, desearán guardar Mis mandamientos. Ustedes, por amor, buscarán entender la profundidad y el matiz de cada mandamiento, cerciorándose de ser obedientes a cada uno de ellos de pensamiento, palabra y obra."

"No hay duda de con quién elijo compartir Mi Reino, pues ellos me han elegido a Mí por medio del amor a Mis mandamientos. Todos son llamados a amarme sin reservas. Son pocos los que pueden abandonar el amor propio desordenado y obedecer Mis mandamientos incondicionalmente."

"Desde Mi trono en el Paraíso, Yo aguardo a cada alma. Mis Brazos están abiertos, esperando abrazar incluso a los más olvidados en el mundo. Todo lo que el alma necesita hacer es acudir a Mi misericordia."

Lean 1ª Juan 3:21-24
Queridos míos, si nuestro corazón no nos hace ningún reproche, podemos acercarnos a Dios con plena confianza, y él nos concederá todo cuanto le pidamos, porque cumplimos sus mandamientos y hacemos lo que le agrada. Su mandamiento es este: que creamos en el nombre de su Hijo Jesucristo, y nos amemos los unos a los otros como él nos ordenó. El que cumple sus mandamientos permanece en Dios, y Dios permanece en él; y sabemos que él permanece en nosotros, por el Espíritu que nos ha dado.
RE: Latest messages are at Holy Love Ministries (www.holylove.org) and Ministerios del Amor Santo (www.amorsanto.com)