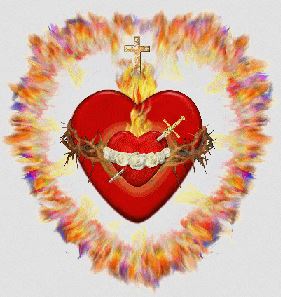 November 29, 2020 Once again, I (Maureen) see a Great Flame that I have come to know as the Heart of God the Father. He says: "The depth of Holy Love in your heart determines the depth of every virtue. It also determines the depth of your surrender to My Will. In your acceptance of all aspects of your life in the present moment is your surrender. Holy Love is the foundation of your personal holiness. First, you must surrender to a deepening love of Me and your neighbor. Upon this love, you build your 'house' of virtues. The framework of this 'house' of holiness is surrender to My Divine Will."

"Storms of temptations, doubts and distractions whip against this 'house' of personal holiness, but the stronger the commitment to holiness, the more resistance there is to these outside challenges. Every once in a while, the soul is able to look out of one of the 'windows' of this 'house' to see where he has been and where he is determined to go. This gives the soul impetus to continue to make his 'house' of holiness stronger and more impervious to outside forces. Others who see the 'house' of holiness may admire it from afar or may see where improvement is needed. In such cases, they should help the owner of this 'house' of holiness to improve by adhering more closely to My Divine Will. I observe very closely the construction of each 'house' of personal holiness. I am the Master Architect."

Read Ephesians 4:11-16+

And his gifts were that some should be apostles, some prophets, some evangelists, some pastors and teachers, to equip the saints, for the work of ministry, for building up the body of Christ, until we all attain to the unity of the faith and of the knowledge of the Son of God, to mature manhood, to the measure of the stature of the fullness of Christ; so that we may no longer be children, tossed back and forth and carried about with every wind of doctrine, by the cunning of men, by their craftiness in deceitful wiles. Rather, speaking the truth in love, we are to grow up in every way into him who is the head, into Christ, from whom the whole body, joined and knit together by every joint with which it is supplied, when each part is working properly, makes bodily growth and upbuilds itself in love.

+ Scripture verses asked to be read by God the Father.

 

29 de Noviembre del 2020
Nuevamente veo una gran llama que he llegado a reconocer como el Corazón de Dios Padre. Dice: "La profundidad del Amor Santo en sus corazones determina la profundidad de cada virtud. También determina la profundidad de su rendición a Mi Voluntad. La rendición radica en aceptar todos los aspectos de su vida en el momento presente. El Amor Santo es el cimiento de la santidad personal. En primer lugar, tienen que rendirse a un amor por Mí y al prójimo cada vez más profundo. Sobre este amor se construye su 'casa' de las virtudes. La estructura de esta 'casa' de la santidad es la rendición a Mi Divina Voluntad."

"Hay tormentas de tentaciones, dudas y distracciones que azotan esta 'casa' de la santidad personal, pero mientras más fuerte el compromiso con la santidad, más capacidad de resistir estos desafíos externos. De vez en cuando, el alma puede asomarse por una de las ventanas de esta 'casa' para ver en dónde ha estado y a dónde está decidida a ir. Esto le da al alma el ímpetu para seguir haciendo más fuerte su 'casa' de la santidad y más inmune a fuerzas externas. Las demás personas que ven la 'casa' de la santidad pueden admirarla desde lejos, o pueden ver dónde se necesitan hacer mejoras. En ese caso, ellos deben ayudar al dueño de esta 'casa' de la santidad para que mejore en unirse más estrechamente a Mi Divina Voluntad. Yo observo muy de cerca la construcción de cada 'casa' de la santidad personal. Yo soy el experto arquitecto."

Lean Efesios 4:11-16




Él comunicó a unos el don de ser apóstoles, a otros profetas, a otros predicadores del Evangelio, a otros pastores o maestros. Así organizó a los santos para la obra del ministerio, en orden a la edificación del Cuerpo de Cristo, hasta que todos lleguemos a la unidad de la fe y del conocimiento del Hijo de Dios, al estado de hombre perfecto y a la madurez que corresponde a la plenitud de Cristo. Así dejaremos de ser niños, sacudidos por las olas y arrastrados por el viento de cualquier doctrina, a merced de la malicia de los hombres y de su astucia para enseñar el error. Por el contrario, viviendo en la verdad y en el amor, crezcamos plenamente, unidos a Cristo. Él es la Cabeza, y de él, todo el Cuerpo recibe unidad y cohesión, gracias a los ligamentos que lo vivifican y a la actividad propia de cada uno de los miembros. Así el Cuerpo crece y se edifica en el amor.
RE: Latest messages are at Holy Love Ministries and Ministerios del Amor Santo