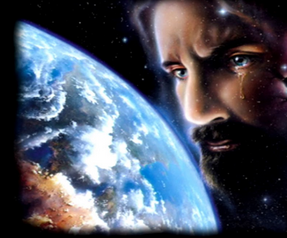 April 16, 2021
Once again, I (Maureen) see a Great Flame that I have come to know as the Heart of God the Father. He says: "Today, I tell you, everything the Heart of My Son* feels, I feel, as well. My Son's Heart is very mournful these days due to the evil in man's heart. My Paternal Heart is mournful, as well. My Son's Heart mourns the disrespect shown My Commandments, as do I. The sin of abortion weighs heavy on both of our hearts. Those who do not oppose this sin, support it. The dismantling of the free government in this country** is tantamount to the ushering in of the Antichrist and deeply grieves both of Our Hearts."

"My true believers must console Our Divine Hearts by merit of their standing for the Truth. The Truth shines as a brilliant light in the darkness of evil decisions. Be courageous in pleasing Our Divine Hearts, My children. I will then console you."

Read 2 Timothy 1:13-14+

Follow the pattern of the sound words which you have heard from me, in the faith and love which are in Christ Jesus; guard the truth that has been entrusted to you by the Holy Spirit who dwells within us.

+ Scripture verses asked to be read by God the Father.

 

16 de Abril del 2021
Nuevamente veo una gran llama que he llegado a reconocer como el Corazón de Dios Padre. Dice: "Hoy les digo, todo lo que siente el Corazón de Mi Hijo, lo siento Yo también. El Corazón de Mi Hijo está muy triste hoy día por el mal que hay en el corazón del hombre. Mi Corazón Paternal también está triste. El Corazón de Mi Hijo lamenta, al igual que Yo, la irreverencia que se muestra a Mis mandamientos. El pecado del aborto pesa mucho en Nuestros Corazones. Quienes no se oponen a este pecado, lo apoyan. La caída del libre gobierno en este País equivale a la entrada del anticristo y aflige profundamente a Nuestros Corazones."

"Mis auténticos creyentes tienen que consolar Nuestros Divinos Corazones en virtud de su defensa de la verdad. La verdad resplandece como una luz brillante en la oscuridad de las decisiones malignas. Sean valientes para agradar a Nuestros Divinos Corazones, hijos Míos. Entonces Yo los consolaré."

Lean 2ª Timoteo 1:13-14




Toma como norma las saludables lecciones de fe y de amor a Cristo Jesús que has escuchado de mí. Conserva lo que se te ha confiado, con la ayuda del Espíritu Santo que habita en nosotros.
RE: Latest messages are at Holy Love Ministries (www.holylove.org) and Ministerios del Amor Santo (www.amorsanto.com)