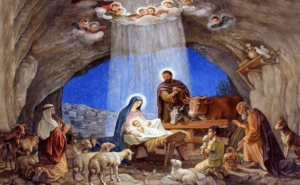 December 25, 2020
The Blessed Virgin Mary says: "Praise be to Jesus."

"Dear children, today as you celebrate Christmas, I would like you to step back in time with Me for a moment. The first Christmas dawned on a world in much strife due to dishonesty in hearts – hearts which did not want to share the world with a newborn King – hearts which did not lead for the sake of the people, but ruled for themselves. Yet, My Son arrived humble in a stable without fanfare. His was a presence which out-measured any gift that could be given."

"These days are much the same as the times when My Son arrived in My Arms in the stable. There is political unrest. People are living as part of the world – not as future citizens of Heaven. They do not allow the infant Jesus to be first and foremost in their hearts, but are in love with themselves. Dishonesty is presented to the people as the Truth. These times are more evil than any in the past. For the most part God's Commandments have been trampled upon."

"For the Holy Remnant still listening, I celebrate with you today. You are the ones who make Jesus the center of your hearts and the center of Christmas. You are joyful for the sake of goodness. I celebrate with joy and gratitude as I see your faithfulness to the Truth. Do not be troubled today by unprecedented problems. I am celebrating with you – the joy of the season."

Read Luke 2:7+

And she gave birth to her first-born son and wrapped him in swaddling cloths, and laid him in a manger, because there was no place for them in the inn.

+ Scripture verses asked to be read by the Blessed Virgin Mary.

 

25 de Diciembre del 2020
Navidad
La Santísima Virgen María dice: "Alabado sea Jesús."

"Queridos hijos, al celebrar hoy la Navidad, me gustaría que por un momento retrocedan Conmigo en el tiempo. La primera Navidad llegó a un mundo de mucho conflicto a causa de la deshonestidad en los corazones; corazones que no querían compartir el mundo con un Rey recién nacido; corazones que no mandaban por el bien del pueblo, sino gobernaban para sí mismos. No obstante, Mi Hijo llegó humilde a un establo sin fanfarrias. Su presencia superaba cualquier regalo que pudiera darse."

"Estos tiempos son muy parecidos a los tiempos en los que Mi Hijo llegó a Mis Brazos en el establo. Hay inquietud política. Las personas están viviendo como parte del mundo, no como futuros ciudadanos del Cielo. No permiten que el niño Jesús sea lo primero y lo más importante en sus corazones, sino que se aman a sí mismas. La deshonestidad se le presenta a la gente como verdad. Estos tiempos son más malignos que ningún otro tiempo en el pasado. En general, los mandamientos de Dios han sido pisoteados."

"Para el santo Remanente que aún escucha, Yo celebro con ustedes hoy. Ustedes son los que ponen a Jesús en el centro de sus corazones y en el centro de la Navidad. Ustedes se alegran por la bondad. Yo celebro con alegría y gratitud al ver su fidelidad a la verdad. No se inquieten hoy por los problemas sin precedentes. Yo estoy celebrando con ustedes la alegría de la temporada."

Lean Lucas 2:7
…y María dio a luz a su Hijo primogénito, lo envolvió en pañales y lo acostó en un pesebre, porque no había lugar para ellos en el albergue.
RE: Latest messages are at Holy Love Ministries and Ministerios del Amor Santo