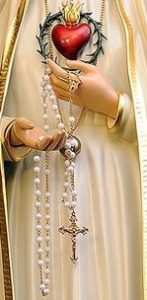 Feast of the Presentation of the Lord
February 2, 2021
Once again, I (Maureen) see a Great Flame that I have come to know as the Heart of God the Father. He says: "These days, it is more important than ever that mankind keeps in close touch with Me. If you are not listening to Me, you will be easy prey for Satan. The future of your nation* and of the world depends upon each one's relationship with Me. As it is, this relationship is being formed by erroneous mass media, which does not take into account My Will."

"My Permitting Will is always in play – always affecting world and personal events. People must take into account that My Omnipotence is not confounded by the evils of the day. Prayer always provides a way to change every situation. You cannot presume to know the outcome of any given situation. This, so often, leads to discouragement. Surrender to My Divine Will. Season your surrender with wisdom. Then, I will lead you according to My Divine Will."

"Stay close to the rosary** which is Satan's nemesis."

Read James 3:13-18+
Who is wise and understanding among you? By his good life let him show his works in the meekness of wisdom. But if you have bitter jealousy and selfish ambition in your hearts, do not boast and be false to the truth. This wisdom is not such as comes down from above, but is earthly, unspiritual, devilish. For where jealousy and selfish ambition exist, there will be disorder and every vile practice. But the wisdom from above is first pure, then peaceable, gentle, open to reason, full of mercy and good fruits, without uncertainty or insincerity. And the harvest of righteousness is sown in peace by those who make peace.

+ Scripture verses asked to be read by God the Father.

 

2 de Febrero del 2021
Nuevamente veo una gran llama que he llegado a reconocer como el Corazón de Dios Padre. Dice: "Actualmente, es más importante que nunca que la humanidad se mantenga en estrecho contacto Conmigo. Si ustedes no me están escuchando a Mí, serán presa fácil de Satanás. El futuro de su Nación y del mundo depende de la relación de cada persona Conmigo. La realidad es que esta relación se está formando con los medios de comunicación erróneos, los cuales no toman en cuenta Mi Voluntad."

"Mi Voluntad Permisiva siempre está en acción, influyendo siempre en el mundo y en los acontecimientos personales. Las personas tienen que tomar en cuenta que Mi omnipotencia no se ve entorpecida por los males actuales. La oración siempre provee una manera de cambiar cada situación. Ustedes no pueden asumir que saben el resultado de alguna situación. Esto, con mucha frecuencia, lleva al desánimo. Ríndanse a Mi Divina Voluntad. Embellezcan su rendición con la sabiduría. Entonces, Yo los guiaré conforme a Mi Divina Voluntad."

"Manténganse cerca del Rosario, el cual es la némesis de Satanás."

Lean Santiago 3:13-18
El que se tenga por sabio y prudente, demuestre con su buena conducta que sus actos tienen la sencillez propia de la sabiduría. Pero si ustedes están dominados por la rivalidad y por el espíritu de discordia, no se vanaglorien ni falten a la verdad. Semejante sabiduría no desciende de lo alto sino que es terrena, sensual y demoníaca. Porque donde hay rivalidad y discordia, hay también desorden y toda clase de maldad. En cambio, la sabiduría que viene de lo alto es, ante todo, pura; y además, pacífica, benévola y conciliadora; está llena de misericordia y dispuesta a hacer el bien; es imparcial y sincera. Un fruto de justicia se siembra pacíficamente para los que trabajan por la paz.
RE: Latest messages are at Holy Love Ministries and Ministerios del Amor Santo