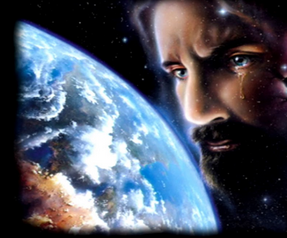 June 17, 2021
Once again, I (Maureen) see a Great Flame that I have come to know as the Heart of God the Father. He says: "The greatest sorrow of My Heart is the souls who do not feel the need to know Me and to love Me. Such souls are devoted to a misguided free will, which serves only to please self and to accommodate every worldly desire. In the heart of such as these, their god is self-satisfaction which Satan presents to them as the only thing worthy of their efforts."

"Some of these souls view the goal of life on earth as the opportunity for pleasure and spend every effort towards this end. When it is evident that their poor end is near, some do turn to Me, but their Heaven is not what it might have been had their life on earth been oriented towards pleasing Me. I reward according to each one's passions on earth."

"Conversion is about the soul's recognition of these Truths – Truths which Satan opposes."

Read 1 Corinthians 2:12-13+
Now we have received not the spirit of the world, but the Spirit which is from God, that we might understand the gifts bestowed on us by God. And we impart this in words not taught by human wisdom but taught by the Spirit, interpreting spiritual Truths to those who possess the Spirit.

 

17 de Junio del 2021




Nuevamente veo una gran llama que he llegado a reconocer como el Corazón de Dios Padre. Dice: "La pena más grande de Mi Corazón son las almas que no sienten la necesidad de conocerme y amarme. Esas almas están dedicadas a un libre albedrío equivocado, el cual se usa solamente para agradarse a sí mismas y para dar cabida a todo deseo mundano. En el corazón de alguien así su dios es la autosatisfacción que Satanás les presenta como lo único meritorio de sus esfuerzos."

"Algunas de estas almas ven el propósito de la vida en la tierra como una oportunidad para el placer y dedican todos sus esfuerzos para ese fin. Cuando es evidente que su pobre fin está cerca, algunos se vuelven a Mí, pero su Cielo no es lo que podría haber sido si su vida en la tierra la hubieran orientado a agradarme a Mí. Yo premio conforme a las pasiones de cada persona en la tierra."

"La conversión se trata de que el alma reconozca estas verdades; verdades a las que Satanás se opone."

Lean 1ª Corintios 2:12-13
Y nosotros no hemos recibido el espíritu del mundo, sino el Espíritu que viene de Dios, para que reconozcamos los dones gratuitos que Dios nos ha dado. Nosotros no hablamos de estas cosas con palabras aprendidas de la sabiduría humana, sino con el lenguaje que el Espíritu de Dios nos ha enseñado, expresando en términos espirituales las realidades del Espíritu.
RE: Latest messages are at Holy Love Ministries (www.holylove.org) and Ministerios del Amor Santo (www.amorsanto.com)