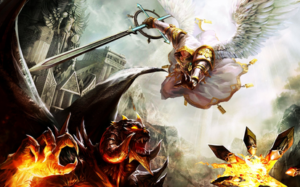 December 27, 2020
Once again, I (Maureen) see a Great Flame that I have come to know as the Heart of God the Father. He says: "I do not support untruth. I never have. However, the errors perpetuated by lies have affected the past and the future. Whole nations have been affected by Satan's lies. Up to this point in time, this nation** has not allowed evil to infiltrate the government to such a degree. Now, friend has become foe. The honest have become victims at the hands of the untrustworthy."

"The solution is unity in prayer, as I have been telling you. The honest must band together in opposition to the plans of evil. Your ancestors*** who founded this country were united under Me. Their vision of a free nation under My Commandments was clear. Renew this spirit in your hearts. Support your sitting President**** in his efforts to remain your fairly-elected***** President. I am giving him My support, as well."

Read Romans 1:18+

For the wrath of God is revealed from heaven against all ungodliness and wickedness of men who by their wickedness suppress the truth.

+ Scripture verses asked to be read by God the Father.

 

27 de Diciembre del 2020
Nuevamente veo una gran llama que he llegado a reconocer como el Corazón de Dios Padre. Dice: "Yo no apoyo la falsedad. Nunca lo he hecho. Sin embargo, los errores perpetrados por las mentiras han afectado el pasado y el futuro. Naciones enteras se han visto afectadas por las mentiras de Satanás. Hasta este momento, esta Nación no ha permitido que el mal se infiltre en el gobierno a ese grado. Ahora, el amigo se ha vuelto el enemigo. El que es honesto se ha vuelto víctima en manos de los que no son dignos de confianza."

"La solución es la unión en la oración, como les he estado diciendo. Los honestos tienen que unirse para oponerse a los planes del mal. Sus ancestros que fundaron este País se unieron bajo Mi autoridad. La visión que tuvieron de una nación libre bajo Mis mandamientos era clara. Renueven este espíritu en sus corazones. Apoyen a su Presidente en funciones (Donald J. Trump) en sus esfuerzos por permanecer como el presidente electo de manera justa. Yo también le doy Mi apoyo."

Lean Romanos 1:18




En efecto, la ira de Dios se revela desde el cielo contra la impiedad y la injusticia de los hombres, que por su injusticia retienen prisionera la verdad.
RE: Latest messages are at Holy Love Ministries and Ministerios del Amor Santo