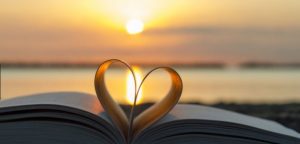 May 8, 2020
Once again, I (Maureen) see a Great Flame that I have come to know as the Heart of God the Father. He says: "Children, realize that the greatest threat to humanity, these days, is not the coronavirus and its deadly effects. It isn't even war. The greatest threat to mankind is and always has been the lack of love in hearts. The lack of love in hearts results in man's distancing himself from My Divine Will. This is the doorway to the acceptance of sin and ultimately the love of evil."

"The soul who does not love Me above all else and neighbor as self, replaces that Holy Love with the evil love of the world and a disordered love of self. It is necessary in today's world that mankind takes into account where his present-moment decisions are leading him. If he does not, he may be surprised by his place before Me or away from Me in Eternity."

Read Ephesians 5:15-17+

Look carefully then how you walk, not as unwise men but as wise, making the most of the time, because the days are evil. Therefore do not be foolish, but understand what the will of the Lord is.

+ Scripture verses asked to be read by God the Father.

 

8 de Mayo del 2020
Nuevamente veo una gran llama que he llegado a reconocer como el Corazón de Dios Padre. Dice: "Hijos, dense cuenta de que la amenaza más grande para la humanidad en estos tiempos no es el coronavirus y sus efectos mortales. Ni siquiera es la guerra. La amenaza más grande para la humanidad es, y siempre ha sido, la falta de amor en los corazones. La falta de amor en los corazones provoca que el hombre se aleje de Mi Divina Voluntad. Ese es el acceso para aceptar el pecado y, finalmente, el amor al mal."

"El alma que no me ama sobre todas las cosas y al prójimo como a sí misma, reemplaza ese Amor Santo con el amor maligno al mundo y con un amor propio desordenado. Es necesario que en el mundo de hoy la humanidad tenga en cuenta hacia dónde la están llevando sus decisiones del momento presente. Si no lo hace, puede sorprenderse por su lugar ante Mí o lejos de Mí en la eternidad."

Lean Efesios 5:15-17
Cuiden mucho su conducta y no procedan como necios, sino como personas sensatas que saben aprovechar bien el momento presente, porque estos tiempos son malos. No sean irresponsables, sino traten de saber cuál es la voluntad del Señor.
RE: Latest messages are at Holy Love Ministries and Ministerios del Amor Santo