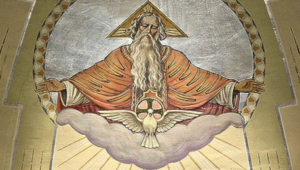 December 23, 2020

Once again, I (Maureen) see a Great Flame that I have come to know as the Heart of God the Father. He says: "Truth does not change in the face of lies. Saying that obvious fraud did not take place does not make it a reality. Neither does the power behind mainstream media change the facts into lies. Truth never changes. It does not fluctuate to please power or ambition. It stays the same. Truth does not accommodate the hidden agendas which expose themselves unashamedly in their own time."

"I always have a secure plan in My Own Will. The misguidance of the media cannot change My Will. I see what hearts try to conceal from the public and I counter it with the Truth. Be assured I am acting through the honest leaders to defeat the enemies of Truth."

Read Colossians 3:9-10+

Do not lie to one another, seeing that you have put off the old man with his practices and have put on the new man, who is being renewed in knowledge after the image of his creator.

+ Scripture verses asked to be read by be read by God the Father.

 

23 de Diciembre del 2020
Nuevamente veo una gran llama que he llegado a reconocer como el Corazón de Dios Padre. Dice: "La verdad no cambia frente a las mentiras. Decir que el evidente fraude no sucedió, no hace que eso sea real. Tampoco el poder que hay detrás de los principales medios de comunicación cambia los hechos en mentiras. La verdad nunca cambia. No varía para agradar al poder o a la ambición. Permanece intacta. La verdad no se adapta a las agendas ocultas que se exhiben descaradamente a su debido tiempo."

"Yo siempre tengo un plan seguro en Mi propia Voluntad. El desatino de los medios no puede cambiar Mi Voluntad. Yo veo lo que los corazones intentan ocultar al público y Yo lo contrarresto con la verdad. Tengan la certeza de que estoy actuando por medio de los líderes honestos para derrotar a los enemigos de la verdad."

Lean Colosenses 3:9-10




Tampoco se engañen los unos a los otros. Porque ustedes se despojaron del hombre viejo y de sus obras, y se revistieron del hombre nuevo, aquel que avanza hacia el conocimiento perfecto, renovándose constantemente según la imagen de su Creador.
RE: Latest messages are at Holy Love Ministries and Ministerios del Amor Santo