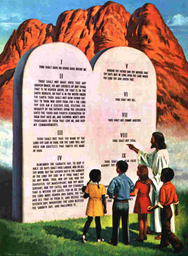 May 1, 2021
Once again, I (Maureen) see a Great Flame that I have come to know as the Heart of God the Father. He says: "The evil in the world today has changed the reality of what is good and what is evil. Satan has been successful through social media in misrepresenting evil as good. Morality has become confused by this means. The moral standards of any nation, in order to receive My favor, must embrace My Commandments."

"Governments should reflect righteous obedience to My Laws first and foremost. When they do not, they invite evil influences in to distance themselves from Me. I desire to be reconciled with mankind through strict obedience to My Commandments. There is no other way to win My favor. Human laws must be formulated around this obedience, just as free will should be. Any other course of action is not from Me and invites disaster."

Read 1 John 3:21-22+

Beloved, if our hearts do not condemn us, we have confidence before God; and we receive from him whatever we ask, because we keep his commandments and do what pleases him.

+ Scripture verses asked to be read by God the Father.

 

1º de Mayo del 2021
Nuevamente veo una gran llama que he llegado a reconocer como el Corazón de Dios Padre. Dice: "El mal que hay en el mundo hoy día ha cambiado la realidad de lo que es bueno y lo que es malo. Satanás, a través de las redes sociales, ha tenido éxito en tergiversar el mal como algo bueno. La moral se ha vuelto confusa por esos medios. Para poder recibir Mi favor, las normas morales de toda nación tienen que aceptar Mis mandamientos."

"Ante todo, los gobiernos tienen que reflejar una justa obediencia a Mis leyes. Cuando no lo hacen, incitan a que entren influencias malignas que los alejan de Mí. Yo quiero reconciliarme con la humanidad mediante la estricta obediencia a Mis mandamientos. No hay otra manera de obtener Mi favor. Las leyes humanas deben formularse en torno a esta obediencia, tal como debe ser el libre albedrío. Cualquier otro curso de acción no proviene de Mí e invita al desastre."

Lean 1ª Juan 3:21-22




Queridos míos, si nuestro corazón no nos hace ningún reproche, podemos acercarnos a Dios con plena confianza, y él nos concederá todo cuanto le pidamos, porque cumplimos sus mandamientos y hacemos lo que le agrada.
RE: Latest messages are at Holy Love Ministries (www.holylove.org) and Ministerios del Amor Santo (www.amorsanto.com)