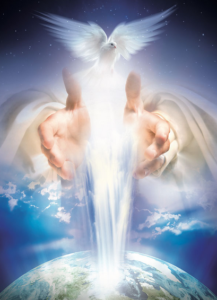 October 10, 2021
Once again, I (Maureen) see a Great Flame that I have come to know as the Heart of God the Father. He says: "Think of the glory of a conversion of heart. One moment the soul is being cast about like a leaf in the wind with no direction or purpose. The next moment he knows Jesus and is filled with the warmth of the Holy Spirit. He is led into the richness of My Grace. He understands the great mysteries of the Faith and accepts his lowliness before Me. He is filled with the desire to know Me better and to love Me. He loves his neighbor. He respects and desires to obey My Commandments.* His life has meaning beyond the material world."

"It is for this reason I urge your rosaries** for the conversion of the heart of the world. Think of the great order such a conversion would bring. People would be living to please Me – not just themselves. My Commandments would hold up in court, as the Justice System would know the difference between good and evil based upon My Commandments. Order between good and sin would be restored in all the world. This is how it will be when My Son*** returns. Pray daily for the conversion of the heart of the world."

Read Daniel 3:20-22+

And he ordered certain mighty men of his army to bind Shad'rach, Me'shach, and Abed'nego, and to cast them into the burning fiery furnace. Then these men were bound in their mantles, their tunics, their hats, and their other garments, and they were cast into the burning fiery furnace. Because the king's order was strict and the furnace very hot, the flame of the fire slew those men who took up Shad'rach, Me'shach, and Abed'nego.

+ Scripture verses asked to be read by God the Father.

 

10 de Octubre del 2021
Nuevamente veo una gran llama que he llegado a reconocer como el Corazón de Dios Padre. Dice: "Piensen en la gloria de una conversión de corazón. En un momento, el alma es lanzada sin dirección o propósito como hoja al viento. Al cabo de un instante, el alma conoce a Jesús y se llena del fuego del Espíritu Santo. El alma es llevada a la riqueza de Mi gracia; comprende los grandes misterios de la fe y acepta su pequeñez ante Mí. Se llena con el deseo de conocerme mejor y amarme. Ama a su prójimo; respeta y desea obedecer Mis mandamientos. Su vida tiene sentido más allá del mundo material."

"Por esta razón los exhorto a que recen sus Rosarios pidiendo por la conversión del corazón del mundo. Piensen en la gran armonía que traería una conversión así. Las personas vivirían para agradarme a Mí, no nada más a sí mismas. Mis mandamientos tendrían valor ante los tribunales, pues el sistema judicial conocería la diferencia entre el bien y el mal basándose en Mis mandamientos. Se restauraría el orden entre el bien y el mal en todo el mundo. Así sucederá cuando Mi Hijo regrese. Recen todos los días pidiendo la conversión del corazón del mundo."

Lean Daniel 3:20-22




Luego ordenó a los hombres más fuertes de su ejército que ataran a Sadrac, Mesac y Abed Negó, para arrojarlos en el horno de fuego ardiente. Entonces estos tres, con sus mantos, sus calzados, sus gorros y toda su ropa, fueron atados y arrojados dentro del horno de fuego ardiente. Como la orden del rey era perentoria y el horno estaba muy encendido, la llamarada mató a los hombres que habían llevado a Sadrac, Mesac y Abed Negó.
RE: Latest messages are at Holy Love Ministries (www.holylove.org) and Ministerios del Amor Santo (www.amorsanto.com)