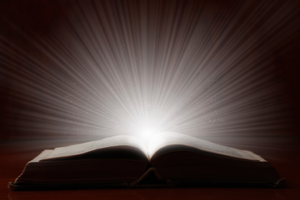 March 29, 2021
Once again, I (Maureen) see a Great Flame that I have come to know as the Heart of God the Father. He says: "Children, never allow bitter thoughts of unforgiveness to linger in your hearts. The only way to forgive is to practice forgiveness in thought, word and deed. The same is true of living in God's Will. Once you have discerned what My Will is for you, do not turn against it in thought, word or deed. Pray for true discernment. Then regard doubts as the enemy."

"Believe in the present-moment grace."

Read Wisdom 6:12-16+

Wisdom is radiant and unfading, and she is easily discerned by those who love her, and is found by those who seek her. She hastens to make herself known to those who desire her. He who rises early to seek her will have no difficulty, for he will find her sitting at his gates. To fix one's thought on her is perfect understanding, and he who is vigilant on her account will soon be free from care, because she goes about seeking those worthy of her, and she graciously appears to them in their paths, and meets them in every thought.

+ Scripture verses asked to be read by God the Father.

 

29 de Marzo del 2021
Nuevamente veo una gran llama que he llegado a reconocer como el Corazón de Dios Padre. Dice: "Hijos, nunca permitan que los pensamientos amargos de la falta de perdón permanezcan en sus corazones. La única manera de perdonar es practicando el perdón de pensamiento, palabra y obra. Lo mismo es válido con el hecho de vivir en la Voluntad de Dios. Una vez que han entendido cuál es Mi Voluntad para ustedes, no se opongan a ella de pensamiento, palabra ni obra. Recen pidiendo auténtico discernimiento. Después, consideren las dudas como su enemigo."

"Crean en la gracia del momento presente."

Lean Sabiduría 6:12-16




La Sabiduría es luminosa y nunca pierde su brillo: se deja contemplar fácilmente por los que la aman y encontrar por los que la buscan. Ella se anticipa a darse a conocer a los que la desean. El que madruga para buscarla no se fatigará, porque la encontrará sentada a su puerta. Meditar en ella es la perfección de la prudencia, y el que se desvela por su causa pronto quedará libre de inquietudes. La Sabiduría busca por todas partes a los que son dignos de ella, se les aparece con benevolencia en los caminos y les sale al encuentro en todos sus pensamientos.
RE: Latest messages are at Holy Love Ministries (www.holylove.org) and Ministerios del Amor Santo (www.amorsanto.com)