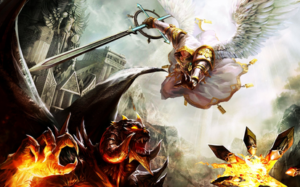 June 3, 2021
Once again, I (Maureen) see a Great Flame that I have come to know as the Heart of God the Father. He says: "These days, you are undergoing a change of seasons. The air is becoming much hotter. There may even be stormy weather. The political climate in your country* has changed, as well. The season that supported Truth has passed away. It is replaced by the unhealthy atmosphere of hidden agendas and false information. The political storms of this age are really battles between good and evil. Evil uses blackmail and threats to win its way. Therefore, campaigns supporting the Truth have been obliterated by a season of evil.""For any of this to change, the climate of fear needs to be changed to one of courage. This will take personal heroism. Much is said about climate change these days. The real climate change that needs to be supported is the climate of dishonesty in leadership to one of Truth."

Read 2 Timothy 4:1-5+

I charge you in the presence of God and of Christ Jesus who is to judge the living and the dead, and by his appearing and his kingdom: preach the word, be urgent in season and out of season, convince, rebuke, and exhort, be unfailing in patience and in teaching. For the time is coming when people will not endure sound teaching, but having itching ears they will accumulate for themselves teachers to suit their own likings, and will turn away from listening to the truth and wander into myths. As for you, always be steady, endure suffering, do the work of an evangelist, fulfil your ministry.

+ Scripture verses asked to be read by God the Father.

 

3 de Junio del 2021
Nuevamente veo una gran llama que he llegado a reconocer como el Corazón de Dios Padre. Dice: "En estos días están experimentando un cambio en las estaciones. El aire se está volviendo mucho más caliente. Incluso puede que haya un clima de tormentas. El ambiente político en su País también ha cambiado. La época en que se apoyaba la verdad ha desaparecido. Ha sido reemplazada por la atmósfera malsana de las agendas ocultas y la falsa información. Las tormentas políticas de esta época en realidad son batallas entre el bien y el mal. El mal utiliza extorsiones y amenazas para salirse con la suya. Por ende, las campañas que apoyan la verdad han sido aniquiladas por una época del mal.""Para que todo esto cambie, el clima de miedo necesita cambiar a un clima de valentía. Esto requerirá de heroísmo personal. Se dice mucho sobre el cambio climático en la actualidad. El verdadero cambio climático que tiene que respaldarse es el cambio del clima de la deshonestidad en el liderazgo a uno de la verdad."

Lean 2ª Timoteo 4:1-5




Yo te conjuro delante de Dios y de Cristo Jesús, que ha de juzgar a los vivos y a los muertos, y en nombre de su Manifestación y de su Reino: proclama la Palabra de Dios, insiste con ocasión o sin ella, arguye, reprende, exhorta, con paciencia incansable y con afán de enseñar. Porque llegará el tiempo en que los hombres no soportarán más la sana doctrina; por el contrario, llevados por sus inclinaciones, se procurarán una multitud de maestros que les halaguen los oídos, y se apartarán de la verdad para escuchar cosas fantasiosas. Tú, en cambio, vigila atentamente, soporta todas las pruebas, realiza tu tarea como predicador del Evangelio, cumple a la perfección tu ministerio.
RE: Latest messages are at Holy Love Ministries (www.holylove.org) and Ministerios del Amor Santo (www.amorsanto.com)
Download e-Book!                                                                            ¡Descargar E-Libro!