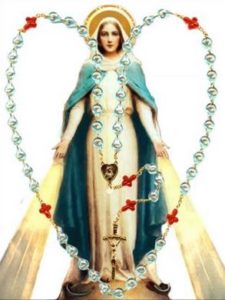 Blessed Virgin Mary
Feast of Dedication of Basilica of St. Mary Major – Blessed Mother's True Birthday
August 5, 2021
The Blessed Virgin Mary says: "Praise be to Jesus."

"Dear children, as it is My earthly birthday today, Papa God allows Me the privilege of addressing you."

(Our Lady is holding a rosary made of rosebuds.)

She says: "This is the weapon that will defeat Satan. The rosary* is more powerful than any nuclear weapon. This is why Satan – the enemy of your salvation – opposes your rosaries with such vehemence. Be on guard for his tactics to defeat your prayers. He uses time against you."

"When you arise each morning, ask Me for the grace to be able to pray well – from the heart. It is in this way that Satan's plans are revealed both in your own lives and in the world. He is the enemy you cannot see, but is always the enemy of any good – great or small. He is already defeated for all eternity and is jealous of each soul's opportunity to earn Heaven. Be obedient to Papa God's Commandments.** This is the path that places you in the Refuge of My Immaculate Heart. Once in My Heart, I will defend and rescue you from Satan's lies."

"Earthly life is always a battle between good and evil. Carry your rosaries with you as a sign to Satan that you belong to Me."

"I am your Refuge of Holy Love and your strength."

Read 1 Timothy 2:1-4+

First of all, then, I urge that supplications, prayers, intercessions, and thanksgivings be made for all men, for kings and all who are in high positions, that we may lead a quiet and peaceable life, godly and respectful in every way. This is good, and it is acceptable in the sight of God our Savior, who desires all men to be saved and to come to the knowledge of the truth.

+ Scripture verses asked to be read by God the Father.

 

5 de Agosto del 2021
Fiesta de la Dedicación de la Basílica de Santa María la Mayor
Verdadero Cumpleaños de la Santísima Virgen

La Santísima Virgen María dice: "Alabado sea Jesús. Queridos hijos, como hoy es Mi cumpleaños terrenal, Papá Dios me permite el privilegio de dirigirme a ustedes."

(Nuestra Señora sostiene un rosario hecho de botones de rosa.)

Ella dice: "Esta es el arma que derrotará a Satanás. El Rosario es más poderoso que cualquier arma nuclear. Por esa razón, Satanás, el enemigo de su salvación, se opone a sus Rosarios con tanta vehemencia. Estén atentos a sus tácticas para frustrar sus oraciones. Él utiliza el tiempo en contra de ustedes."

"Cuando se levanten cada mañana, pídanme la gracia de poder rezar bien, con el corazón. De esta manera, los planes de Satanás se revelan tanto en sus vidas como en el mundo. Él es el enemigo que ustedes no pueden ver, pero siempre es el enemigo de todo bien; grande o pequeño. Él ya está derrotado para toda la eternidad y tiene envidia de la oportunidad que tiene cada alma para ganarse el Cielo. Sean obedientes a los mandamientos de Papá Dios. Este es el sendero que los pone en el Refugio de Mi Inmaculado Corazón. Una vez dentro de Mi Corazón, Yo los defenderé y los rescataré de las mentiras de Satanás."

"La vida terrenal siempre es una batalla entre el bien y el mal. Lleven consigo sus rosarios como una señal para Satanás de que ustedes me pertenecen a Mí."

"Yo soy su Refugio del Amor Santo y su fortaleza."

Lean 1ª Timoteo 2:1-4
Ante todo, te recomiendo que se hagan peticiones, oraciones, súplicas y acciones de gracias por todos los hombres, por los soberanos y por todas las autoridades, para que podamos disfrutar de paz y de tranquilidad, y llevar una vida piadosa y digna. Esto es bueno y agradable a Dios, nuestro Salvador, porque él quiere que todos se salven y lleguen al conocimiento de la verdad.
RE: Latest messages are at Holy Love Ministries (www.holylove.org) and Ministerios del Amor Santo (www.amorsanto.com)