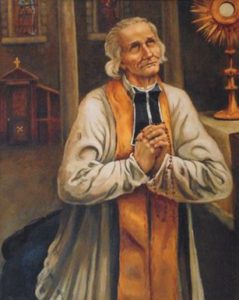 Feast of St. John Vianney
August 4, 2021
Once again, I (Maureen) see a Great Flame that I have come to know as the Heart of God the Father. He says: "Children, regard each moment as a treasure – a gift from Me to you. The present moment will never repeat itself in the same way, with the same graces. The saint celebrated this day (John Vianney), relished each moment as an opportunity to save souls. His sacrifices of prayer and fasting and of long hours in the confessional saved thousands of souls. Today, all priests should take him as a model. If they would do so, the Church would be reformed and made whole in holiness. Priests would be regarded with the deepest respect and raised far above any sinful act. But sadly, these times find the holy priesthood as a subject of suspicion, and rightfully so. The Gates of Heaven do not automatically swing open for a priest. They meet a sterner judgment than most."

"Many souls have been led astray by those priests compromised by sin. So today, I urge you to pray once a day for priests* who do not meet the standards of personal holiness that I call them to. This is an act of charity I will reward."

Read Psalm 4:5+

Offer right sacrifices, and put your trust in the LORD.

+ Scripture verses asked to be read by God the Father.

 

4 de Agosto del 2021
Fiesta de san Juan-María Vianney
Nuevamente veo una gran llama que he llegado a reconocer como el Corazón de Dios Padre. Dice: "Hijos, consideren cada momento como un tesoro; un regalo de Mi parte para ustedes. El momento presente nunca se va a repetir de la misma manera, con las mismas gracias. El santo que se celebra hoy (Juan-María Vianney), apreciaba cada momento como una oportunidad para salvar almas. Sus sacrificios de oración y ayuno y de largas horas en el confesionario salvaron miles de almas. En la actualidad, todos los sacerdotes deberían tomarlo a él como modelo. Si así lo hicieran, la Iglesia se reformaría y se enmendaría en la santidad. A los sacerdotes se les consideraría con el más profundo respeto y muy por encima de cualquier acto pecaminoso. Pero, lamentablemente, estos tiempos ven al santo sacerdocio como objeto de sospechas, y con razón. Las puertas del Cielo no se abren de forma automática para un sacerdote. Ellos se enfrentan a un juicio más severo que la mayoría."

"Muchas almas han sido llevadas por mal camino por estos sacerdotes afectados por el pecado. Así que, el día de hoy, los exhorto a rezar una vez al día por los sacerdotes que no cumplen los estándares de la santidad personal a los que Yo los llamo. Este es un acto de caridad que Yo recompensaré."

Lean Salmo 4:6




…ofrezcan los sacrificios que son debidos y tengan confianza en el Señor.
RE: Latest messages are at Holy Love Ministries (www.holylove.org) and Ministerios del Amor Santo (www.amorsanto.com)