Merry Christmas!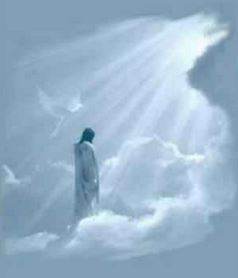 Feliz Navidad!
November 30, 2021
Once again, I (Maureen) see a Great Flame that I have come to know as the Heart of God the Father. He says: "Everyone who sins, breaks first and foremost My First Commandment.* The sinner worships his own will ahead of love of Me. In so doing, he makes a false god of his free will. During this Advent Season, make an effort to free yourselves of the false god of free will. In that way, you will come deeper into My Divine Will and My Paternal Heart."

"Sin is the opposite of My Divine Will. Either you love sin or you love My Will for you. Everyone is guilty of some sin every day. Learn to discern where the sin is in your lives. Do not give in to a strong self-will. This is not humble and is an open door to sin. Pray to recognize My Will for you, which is not always what you want."

Read Ephesians 5:6-12, 15-17+

Let no one deceive you with empty words, for it is because of these things that the wrath of God comes upon the sons of disobedience. Therefore do not associate with them, for once you were darkness, but now you are light in the Lord; walk as children of light (for the fruit of light is found in all that is good and right and true), and try to learn what is pleasing to the Lord. Take no part in the unfruitful works of darkness, but instead expose them. For it is a shame even to speak of the things that they do in secret;

Look carefully then how you walk, not as unwise men but as wise, making the most of the time, because the days are evil. Therefore do not be foolish, but understand what the will of the Lord is.

+ Scripture verses asked to be read by God the Father.

 

30 de Noviembre del 2021
Nuevamente veo una gran llama que he llegado a reconocer como el Corazón de Dios Padre. Dice: "Todo el que peca quebranta principalmente Mi primer mandamiento. El pecador idolatra su voluntad por encima del amor por Mí. Al hacerlo, hace un falso dios de su libre albedrío. Durante esta época de Adviento, hagan un esfuerzo por liberarse de ese falso dios. De esa manera, se sumergirán más profundamente en Mi Divina Voluntad y en Mi Corazón Paternal."

"El pecado es lo opuesto a Mi Divina Voluntad. O aman el pecado o aman Mi Voluntad para ustedes. Todos son culpables de algún pecado cada día. Aprendan a discernir en dónde está el pecado en sus vidas. No cedan a una férrea voluntad propia. Esto no es algo humilde y es una puerta abierta al pecado. Reconozcan Mi Voluntad para ustedes, la cual no siempre es lo que ustedes quieren."

Lean Efesios 5:6-12, 15-17




No se dejen engañar por falsas razones: todo eso atrae la ira de Dios sobre los que se resisten a obedecerle. ¡No se hagan cómplices de los que obran así! Antes, ustedes eran tinieblas, pero ahora son luz en el Señor. Vivan como hijos de la luz. Ahora bien, el fruto de la luz es la bondad, la justicia y la verdad. Sepan discernir lo que agrada al Señor, y no participen de las obras estériles de las tinieblas; al contrario, pónganlas en evidencia. Es verdad que resulta vergonzoso aun mencionar las cosas que esa gente hace ocultamente. …Cuiden mucho su conducta y no procedan como necios, sino como personas sensatas que saben aprovechar bien el momento presente, porque estos tiempos son malos. No sean irresponsables, sino traten de saber cuál es la voluntad del Señor

.
RE: Latest messages are at Holy Love Ministries (www.holylove.org) and Ministerios del Amor Santo (www.amorsanto.com)