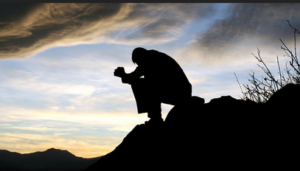 August 10, 2021
Once again, I (Maureen) see a Great Flame that I have come to know as the Heart of God the Father. He says: "The soul most pleasing to Me is the one who does not demand the spotlight. His heart is quiet and not ambitious towards any hidden agenda. I can always find such a one steeped in simplicity. I continue to encourage every soul to live a life unencumbered by worldly concerns. This can only be achieved through surrender to My Divine Will. In such a surrender is acceptance to all that occurs in each present moment. This requires quiet courage."

"Such a surrender is the essence of holiness. It is self-effacing. The soul full of pushy ambition is far from holiness based on humility of heart. I can tell you these things and describe holiness to you, but it is the responsibility of each heart to act upon My Words. Seek to be strong in hidden virtue – not important in the eyes of man."

Read Colossians 3:1-4+




If then you have been raised with Christ, seek the things that are above, where Christ is, seated at the right hand of God. Set your minds on things that are above, not on things that are on earth. For you have died, and your life is hid with Christ in God. When Christ who is our life appears, then you also will appear with him in glory.




+ Scripture verses asked to be read by God the Father.

 

10 de Agosto del 2021
Nuevamente veo una gran llama que he llegado a reconocer como el Corazón de Dios Padre. Dice: "El alma que más me agrada es la que no requiere ser el centro de atención. Su corazón es sereno y no tiene ambición por ninguna agenda oculta. Yo siempre puedo encontrar alguien así lleno de sencillez. Sigo alentando a todas las almas a llevar una vida libre de preocupaciones mundanas. Esto solamente se puede lograr por medio de la rendición a Mi Divina Voluntad. En esta rendición está la aceptación de todo lo que sucede en cada momento presente. Esto requiere una valentía serena."

"Una rendición así es la esencia de la santidad. Es la modestia. El alma llena de intensa ambición está muy lejos de la santidad basada en la humildad de corazón. Yo les puedo decir estas cosas y describirles la santidad, pero es responsabilidad de cada corazón actuar en base a Mis palabras. Busquen ser fuertes en la virtud oculta, que no sea importante a los ojos del hombre."

Lean Colosenses 3:1-4




Ya que ustedes han resucitado con Cristo, busquen los bienes del cielo donde Cristo está sentado a la derecha de Dios. Tengan el pensamiento puesto en las cosas celestiales y no en las de la tierra. Porque ustedes están muertos, y su vida está desde ahora oculta con Cristo en Dios. Cuando se manifieste Cristo, que es nuestra vida, entonces ustedes también aparecerán con él, llenos de gloria.
RE: Latest messages are at Holy Love Ministries (www.holylove.org) and Ministerios del Amor Santo (www.amorsanto.com)