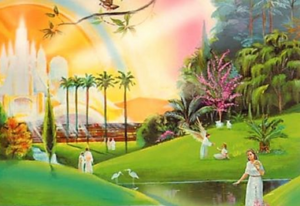 March 3, 2021
Once again, I (Maureen) see a Great Flame that I have come to know as the Heart of God the Father. He says: "The battle between good and evil is ongoing and is in every heart. It is the battle between love of self and love of Me. If you say you love Me, then you will love My Commandments and obey them. If you hold a disordered self-love in your heart, you will look for ways to compromise My Commandments. The scope of My Commandments covers every aspect of human existence. Every sin is the bad fruit of love of the sin more than love of Me. The soul who makes a conscious choice to choose and love sin cannot share Paradise with Me unless he repents."

"I regard the state of each soul with perfect love and mercy. No one is cheated out of his salvation. The soul relinquishes his salvation through errant choices. This should prove to you the importance of each present moment. Very often – too often – the soul's last breath is unexpected. In such cases, the heart does not have time to repent. That is why it is most important to live a life according to obedience to My Commandments so that death does not rob you of your salvation. This is wise prudence."

Read 1 Thessalonians 5:8-10+

But, since we belong to the day, let us be sober, and put on the breastplate of faith and love, and for a helmet the hope of salvation. For God has not destined us for wrath, but to obtain salvation through our Lord Jesus Christ, who died for us so that whether we wake or sleep we might live with Him.

+ Scripture verses asked to be read by God the Father.

 

3 de Marzo del 2021
Nuevamente veo una gran llama que he llegado a reconocer como el Corazón de Dios Padre. Dice: "La batalla entre el bien y el mal es continua y está en todos los corazones. Se trata de la batalla entre el amor a uno mismo y el amor a Mí. Si ustedes dicen que me aman, entonces amarán Mis mandamientos y los obedecerán. Si guardan un amor desordenado en el corazón, buscarán las formas de hacer concesiones con Mis mandamientos. El alcance de Mis mandamientos cubre cada aspecto de la existencia humana. Cada pecado es el mal fruto del amor al pecado por encima del amor a Mí. El alma que toma una decisión consciente para elegir y amar al pecado, no puede compartir el Paraíso Conmigo a menos que se arrepienta."

"Yo considero el estado de cada alma con perfecto amor y misericordia. A nadie se le arrebata su salvación. El alma renuncia a su salvación mediante malas decisiones. Esto debería demostrarles la importancia de cada momento presente. Muchas veces –con demasiada frecuencia– el último aliento del alma es inesperado. En esos casos, el corazón no tiene tiempo de arrepentirse. Por esa razón es muy importante vivir una vida conforme a la obediencia a Mis mandamientos para que la muerte no les robe su salvación. Esto se llama sabia prudencia."

Lean 1ª Tesalonicenses 5:8-10




Nosotros, por el contrario, seamos sobrios, ya que pertenecemos al día: revistámonos con la coraza de la fe y del amor, y cubrámonos con el caso de la esperanza de la salvación. Porque Dios no nos destinó para la ira, sino para adquirir la salvación por nuestro Señor Jesucristo, que murió por nosotros, a fin de que, velando o durmiendo, vivamos unidos a él.
RE: Latest messages are at Holy Love Ministries and Ministerios del Amor Santo