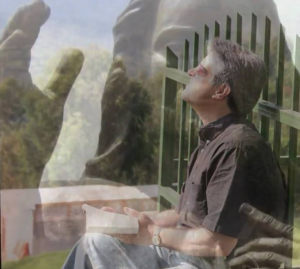 April 18, 2021
Once again, I (Maureen) see a Great Flame that I have come to know as the Heart of God the Father. He says: "The freedom that no infidel can take from you is the prayer of your heart. This is what mankind must count upon and strengthen as time goes by. The spiritual relationship man has with his God is the most important relationship of his earthly existence. Each one should spend much effort in deepening this relationship through prayer and sacrifice."

"Make atonement to My Paternal Heart and the Heart of My Son* through penance. This is a strength no illicit law can grasp from you. As you grow stronger spiritually, you will see with the eyes of your heart what nefarious dangers lie around you. You will have the strength to oppose them and avoid them."

"Penance is the key to change in hearts for it strengthens good and weakens evil. The penitent heart is strong in selflessness – eager to help and to please others. Pray that more hearts make atonement for the errors of the day which embrace evil."

Read 1 Timothy 4:7-8+

Have nothing to do with godless and silly myths. Train yourself in godliness; for while bodily training is of some value, godliness is of value in every way, as it holds promise for the present life and also for the life to come.

+ Scripture verses asked to be read by God the Father.

 

18 de Abril del 2021
Nuevamente veo una gran llama que he llegado a reconocer como el Corazón de Dios Padre. Dice: "La libertad que ningún impío puede arrebatarles es la oración del corazón. La humanidad debe tener esto en cuenta y fortalecerse con el paso del tiempo. La relación espiritual que el hombre tiene con su Dios es la relación más importante de su existencia terrenal. Cada uno debe esforzarse mucho por intensificar esta relación por medio de la oración y el sacrificio."

"Hagan expiación a Mi Corazón Paternal y al Corazón de Mi Hijo a través de la penitencia. Esta es una fuerza que ninguna ley ilícita puede quitarles. A medida que se hacen más fuertes espiritualmente, verán con los ojos del corazón los peligros perversos que están a su alrededor. Tendrán la fuerza para oponerse a ellos y evitarlos."

"La penitencia es la clave para el cambio en los corazones, ya que fortalece el bien y debilita el mal. El corazón contrito es fuerte en generosidad; dispuesto a ayudar y agradar a los demás. Recen pidiendo que más corazones hagan expiación por los errores actuales que abrazan el mal."

Lean 1ª Timoteo 4:7-8




Rechaza esos mitos ridículos, esos cuentos de viejas, y ejercítate en la piedad. Los ejercicios físicos son de poca utilidad; la piedad, en cambio, es útil para todo, porque encierra una promesa de Vida para el presente y para el futuro.
RE: Latest messages are at Holy Love Ministries (www.holylove.org) and Ministerios del Amor Santo (www.amorsanto.com)