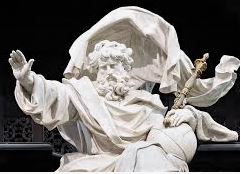 January 10, 2021
Once again, I (Maureen) see a Great Flame that I have come to know as the Heart of God the Father. He says: "Children, surrender your hearts completely now to My Dominion, which is from age to age and everlasting. In this surrender is your trust in My Provision. You do not always see the ways that I am working in the background in hearts and through inspirations of the Holy Spirit. The trusting heart is always waiting for My next move – My next sign – My next provision of grace. Therefore, the trusting heart never fails to hope and does not succumb to fear."

"I work through the courageous heart – the heart always willing to stand for the Truth despite any amount of opposition. This is the type of leader you can safely place your trust in without fear of compromise. The courageous heart does not change course midstream due to any threat or danger to his well-being. He stands convicted in the Truth and therefore, is a dependable warrior of the Truth."

"My Arms are around this nation* now as it struggles to live up to the principles it was founded upon. The conscience of your government must not succumb to the compromise of Truth that certain leaders are presenting as Truth."

Read Romans 8:24-25+

For in this hope we were saved. Now hope that is seen is not hope. For who hopes for what he sees? But if we hope for what we do not see, we wait for it with patience.

+ Scripture verses asked to be read by God the Father.

 

10 de Enero del 2021
Nuevamente veo una gran llama que he llegado a reconocer como el Corazón de Dios Padre. Dice: "Hijos, rindan ahora sus corazones completamente a Mi dominio, el cual es eterno y de generación en generación. En esta rendición está su confianza en Mi Provisión. Ustedes no siempre ven las formas en que Yo obro en el fondo de sus corazones y por medio de las inspiraciones del Espíritu Santo. El corazón que confía siempre está esperando Mi siguiente movimiento, Mi siguiente señal, Mi siguiente provisión de gracia. Por lo tanto, el corazón que confía nunca deja de tener esperanza y no sucumbe al miedo."

"Yo obro mediante el corazón valiente; mediante el corazón que siempre está dispuesto a defender la verdad a pesar de cualquier cantidad de oposición. Este es el tipo de líder en el que pueden depositar su confianza con seguridad y sin miedo a las transigencias. El corazón valiente no hace cambios en medio del proceso debido a alguna amenaza o peligro a su bienestar. Permanece convencido de la verdad y, por consiguiente, es un confiable guerrero de la verdad."

"Mis Brazos envuelven a esta Nación ahora mientras lucha por acatar los principios sobre los que fue fundada. La conciencia de su gobierno no debe sucumbir a la negociación de la verdad que ciertos líderes están presentando como verdad."

Lean Romanos 8:24-25
Porque solamente en esperanza estamos salvados. Ahora bien, cuando se ve lo que se espera, ya no se espera más: ¿acaso se puede esperar lo que se ve? En cambio, si esperamos lo que no vemos, lo esperamos con constancia.
RE: Latest messages are at Holy Love Ministries and Ministerios del Amor Santo