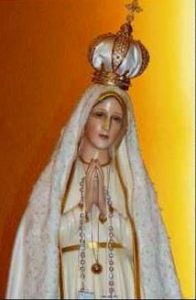 May 13, 2021
Blessed Mother says: "Praise be to Jesus."

"Dear children, the reason the poor shepherd children were chosen as My Messengers at Fatima* was their hearts were uncluttered with the affections of the world. It was easy for Me to win over their hearts as there was no disordered attachments in their hearts as obstacles to the Truth. Since they accepted the Truth without reservation, they were credible vessels of grace."

"These days, the Truth often goes unattended and many hearts do not recognize or accept Truth as viable. This is because hearts are filled with false gods – gods of this world – wealth, reputation, material goods and passing pleasures. My Call to you is simplicity, making God the center of your hearts and your lives. Like the children in Fatima, allow the Truthful God to fill your hearts."

"Today, I am bending towards earth with My Hands filled with grace, ready to pour out on the simple-hearted. Fill your hearts with My Grace through your heart-felt prayers and detachment from the world."

Read Colossians 3:1-10+

If then you have been raised with Christ, seek the things that are above, where Christ is, seated at the right hand of God. Set your minds on things that are above, not on things that are on earth. For you have died, and your life is hid with Christ in God. When Christ who is our life appears, then you also will appear with him in glory. Put to death therefore what is earthly in you: immorality, impurity, passion, evil desire, and covetousness, which is idolatry. On account of these the wrath of God is coming upon the sons of disobedience. In these you once walked, when you lived in them. But now put them all away: anger, wrath, malice, slander, and foul talk from your mouth. Do not lie to one another, seeing that you have put off the old nature with its practices and have put on the new nature, which is being renewed in knowledge after the image of its creator.

+ Scripture verses asked to be read by Blessed Virgin Mary.

 

13 de Mayo del 2021
Fiesta de Nuestra Señora de Fátima
La Santísima Virgen dice: "Alabado sea Jesús."

"Queridos hijos, la razón por la que los humildes pastorcitos fueron elegidos como Mis mensajeros en Fátima fue porque sus corazones estaban libres de las atracciones del mundo. Fue fácil para Mí conquistar sus corazones porque en ellos no había apegos desordenados que fueran obstáculos a la verdad. Dado que ellos aceptaron la verdad sin reservas, fueron vasos confiables de gracia."

"En la actualidad, la verdad pasa inadvertida con frecuencia y muchos corazones no reconocen o no aceptan la verdad como algo viable. Esto se debe a que los corazones están llenos de falsos dioses; dioses de este mundo: riqueza, reputación, bienes materiales y placeres pasajeros. Mi llamado a ustedes es la sencillez, haciendo a Dios el centro de sus corazones y de sus vidas. Como los niños de Fátima, permitan que el verdadero Dios llene sus corazones."

"Hoy día, me inclino a la tierra con las Manos llenas de gracia; gracia lista para derramarla sobre los sencillos de corazón. Llenen sus corazones con Mi gracia por medio de sus oraciones sinceras y del desapego del mundo."

Lean Colosenses 3:1-10
Ya que ustedes han resucitado con Cristo, busquen los bienes del cielo donde Cristo está sentado a la derecha de Dios. Tengan el pensamiento puesto en las cosas celestiales y no en las de la tierra. Porque ustedes están muertos, y su vida está desde ahora oculta con Cristo en Dios. Cuando se manifieste Cristo, que es nuestra vida, entonces ustedes también aparecerán con él, llenos de gloria. Por lo tanto, hagan morir en sus miembros todo lo que es terrenal: la lujuria, la impureza, la pasión desordenada, los malos deseos y también la avaricia, que es una forma de idolatría. Estas cosas provocan la ira de Dios sobre los rebeldes. Ustedes mismos se comportaban así en otro tiempo, viviendo desordenadamente. Pero ahora es necesario que acaben con la ira, el rencor, la maldad, las injurias y las conversaciones groseras. Tampoco se engañen los unos a los otros. Porque ustedes se despojaron del hombre viejo y de sus obras, y se revistieron del hombre nuevo, aquel que avanza hacia el conocimiento perfecto, renovándose constantemente según la imagen de su Creador.
RE: Latest messages are at Holy Love Ministries (www.holylove.org) and Ministerios del Amor Santo (www.amorsanto.com)