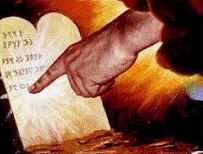 October 19, 2020 Once again, I (Maureen) see a Great Flame that I have come to know as the Heart of God the Father. He says: "Each person's heart is his own kingdom. As with any kingdom, there are marauders seeking to destroy it. In this case today (the election),* the vandals are the mass media who are trying to capture the heart of man, the nation** and the world with untruth. Therefore, it is important that each heart defines the Truth and tenaciously clings to it. The Truth is My Commandments which have outlined for you the way to your salvation. Ideas which compromise this goal are evil and must not be acted upon. Untruths, when given credence through mass media, tear down the walls of the hearts struggling to decide what is Truth and what is not."

"I am the Author of Truth – of My Commandments. I do not, nor never will, support anarchy, sanctuaries of violence or oppose a person's right to protect himself. I do not support any attempt to destroy the foundation of history which is the basis of support of the heart of this country. Only evil would encourage and support such things. As Author of the Commandments, I would never encourage lawlessness. Keep these Truths in mind in every future moment. I am the Truth."

Read 1 John 2:7-11+

Beloved, I am writing you no new commandment, but an old commandment which you had from the beginning; the old commandment is the word which you have heard. Yet I am writing you a new commandment, which is true in him and in you, because the darkness is passing away and the true light is already shining. He who says he is in the light and hates his brother is in the darkness still. He who loves his brother abides in the light, and in it there is no cause for stumbling. But he who hates his brother is in the darkness and walks in the darkness, and does not know where he is going, because the darkness has blinded his eyes.

+ Scripture verses asked to be read by God the Father.

 

19 de Octubre del 2020
Nuevamente veo una gran llama que he llegado a reconocer como el Corazón de Dios Padre. Dice: "El corazón de cada persona es su propio reino. Como con cualquier reino, hay merodeadores que buscan destruirlo. En el caso actual (en las elecciones), los vándalos son los medios de comunicación que intentan atrapar con falsedades al corazón del hombre, a la Nación y al mundo. Por lo tanto, es importante que cada corazón tenga la verdad de modo preciso y que se aferre a ella tenazmente. La verdad son Mis mandamientos que les han delineado el camino a su salvación. Las ideas que comprometen este objetivo son nocivas y no se deben poner en práctica. Las falsedades, cuando se les da crédito a través de los medios de comunicación, derriban los muros de los corazones que luchan por decidir lo que es y lo que no es la verdad."

"Yo soy el autor de la verdad; el autor de Mis mandamientos. Yo no apoyo, ni nunca apoyaré, la anarquía, los santuarios de violencia ni me opondré al derecho que tienen las personas de protegerse. Yo no respaldo ningún intento por destruir los cimientos de la historia, que son la base de apoyo del corazón de este País. Solamente el mal alentaría y respaldaría esas cosas. Como el autor de los mandamientos, Yo nunca alentaría la anarquía. Recuerden estas verdades en cada momento futuro. Yo soy la Verdad."

Lean 1ª Juan 2:7-11




Queridos míos, no les doy un mandamiento nuevo, sino un mandamiento antiguo, el que aprendieron desde el principio: este mandamiento antiguo es la palabra que ustedes oyeron. Sin embargo, el mandamiento que les doy es nuevo. Y esto es verdad tanto en él como en ustedes, porque se disipan las tinieblas y ya brilla la verdadera luz. El que dice que está en la luz y no ama a su hermano, está todavía en las tinieblas. El que ama a su hermano permanece en la luz y nada lo hace tropezar. Pero el que no ama a su hermano, está en las tinieblas y camina en ellas, sin saber a dónde va, porque las tinieblas lo han enceguecido.
RE: Latest messages are at Holy Love Ministries and Ministerios del Amor Santo