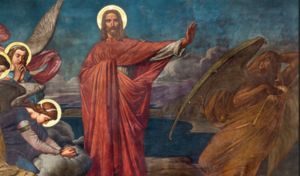 October 14, 2021
Once again, I (Maureen) see a Great Flame that I have come to know as the Heart of God the Father. He says: "Children, do not be discouraged in your prayer lives. Every prayer counts and weakens Satan's grasp on the heart of the world. Just your effort to turn to prayer makes a difference. When you pray, focus on the effect your prayers have in the spiritual battles being waged today. All the conflicts being waged in the world can be overcome if man realizes the greatest war is in hearts. The war we must win is the spiritual war in hearts. That is the victory which will send Satan and his cohorts back to the lowest regions of the netherworld."

"Satan can only gain a foothold through man's free will. Therefore, it behooves man to stand guard over his will, his every decision and every occasion of sin which he must avoid. Do not regard even the smallest part of your day as unimportant. Be brave in your choices. This is the way to overcome Satan's influence."

Read Ephesians 5:15-17 +




Look carefully then how you walk, not as unwise men but as wise, making the most of the time, because the days are evil. Therefore do not be foolish, but understand what the will of the Lord is.

+ Scripture verse(s) asked to be read by God the Father.

 

14 de Octubre del 2021
Nuevamente veo una gran llama que he llegado a reconocer como el Corazón de Dios Padre. Dice: "Hijos, no se desanimen en sus vidas de oración. Cada oración cuenta y debilita el control de Satanás sobre el corazón del mundo. El solo esfuerzo por ponerse a rezar hace una diferencia. Cuando recen, concéntrense en el efecto que sus oraciones tienen en los combates espirituales que se libran hoy día. Todos los conflictos que están sucediendo en el mundo se pueden superar si el hombre se da cuenta de que la guerra más grande está en los corazones. La guerra que tenemos que ganar es la guerra espiritual en los corazones. Esa es la victoria que enviará a Satanás y a sus secuaces de regreso a las áreas más bajas del inframundo."

"Satanás solo puede ganar terreno por medio del libre albedrío del hombre. Por lo tanto, es conveniente que el hombre vigile su voluntad, cada decisión que toma y cada oportunidad de pecado que debe evitar. No consideren poco importante ni siquiera la parte más insignificante de su día. Sean valientes en sus decisiones. Esta es la manera de vencer la influencia de Satanás."

Lean Efesios 5:15-17




Cuiden mucho su conducta y no procedan como necios, sino como personas sensatas que saben aprovechar bien el momento presente, porque estos tiempos son malos. No sean irresponsables, sino traten de saber cuál es la voluntad del Señor.
RE: Latest messages are at Holy Love Ministries (www.holylove.org) and Ministerios del Amor Santo (www.amorsanto.com)