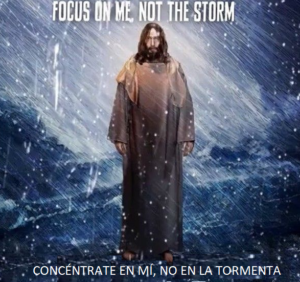 February 12, 2021
Once again, I (Maureen) see a Great Flame that I have come to know as the Heart of God the Father. He says: "Dear children, many times you face tests of your faith and you do not trust, which makes every trial more difficult. The way to get through any trial with grace is to focus on My Love for you. That is how My Precious Son was able to face His Crucifixion. No one will ever face a trial such as that. I urge you to keep things in perspective. You cannot live a courageous life in faith if you surrender to fear – always thinking the worst is about to happen."

"I am helping you in any difficulty. If you do not believe in that – you do not know Me and love Me as you should. I know each trial and every victory each soul will face in the future. I am there waiting for you. Remember, everything comes with its own attendant grace. Depend on that."

Read Romans 8:28+

We know that in everything God works for good with those who love him, who are called according to his purpose.

+ Scripture verses asked to be read by God the Father.

 

12 de febrero de 2021
Una vez más, yo (Maureen) veo una Gran Llama que he llegado a conocer como el Corazón de Dios Padre. Él dice: "Queridos hijos, muchas veces enfrentan pruebas de su fe y no confían, lo que hace cada prueba más difícil. La manera de superar cualquier prueba con gracia es enfocarse en Mi Amor por ustedes. Así es como Mi Precioso Hijo pudo enfrentar su crucifixión. Nadie enfrentará jamás una prueba como esa. Te insto a que mantengas las cosas en perspectiva. No puedes vivir una vida valiente en la fe si te rindes al miedo, siempre pensando que lo peor está por suceder. ocurrir."

"Te estoy ayudando en cualquier dificultad. Si no crees en eso, no Me conoces y me amas como deberías. Yo conozco cada prueba y cada victoria que enfrentará cada alma en el futuro. Estoy allí esperándote. . Recuerde, todo viene con su propia gracia. Confíe en eso ".

Leer Romanos 8:28 en adelante

Sabemos que en todo Dios obra para bien con los que le aman, que son llamados conforme a su propósito.

+ Los versículos de las Escrituras pidieron ser leídos por Dios el Padre.
RE: Latest messages are at Holy Love Ministries and Ministerios del Amor Santo