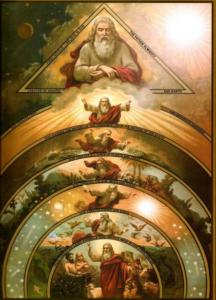 March 2, 2021
Once again, I (Maureen) see a Great Flame that I have come to know as the Heart of God the Father. He says: "In order to love Me above all else, the soul must remove all false gods from his life. It is disordered affection for money, power, love of reputation or appearance, love of any worldly pleasure, love of possessions in any form, which lead to the victory of sin in the heart. This disordered affection becomes a false god unless the soul monitors the passions of his heart."

"In the world today, there are false religions, honoring false gods not of Me. Many claim great holiness, but support violence against those who do not believe in these same false gods. Clearly, they do not obey My Ten Commandments which rule over all people and all nations."

"So, you see, there are many ways sin can be victorious in the unwise heart. The wise man keeps a close watch over what his heart becomes attached to and how his affections are spent."

Read Titus 2:11-14+

For the grace of God has appeared for the salvation of all men, training us to renounce irreligion and worldly passions, and to live sober, upright, and godly lives in this world, awaiting our blessed hope, the appearing of the glory of our great God and Savior Jesus Christ, who gave himself for us to redeem us from all iniquity and to purify for himself a people of his own who are zealous for good deeds.

+ Scripture verses asked to be read by God the Father.

 

2 de Marzo del 2021
Nuevamente veo una gran llama que he llegado a reconocer como el Corazón de Dios Padre. Dice: "Para que el alma pueda amarme sobre todas las cosas, tiene que quitar de su vida todos los falsos dioses. Lo que lleva a que el pecado triunfe en el corazón es el afecto desordenado al dinero, al poder, el amor por la reputación o por la apariencia, el amor a cualquier placer terrenal y el amor a las posesiones de todo tipo. Este afecto desordenado se vuelve un falso dios a menos que el alma supervise las pasiones de su corazón."

"En el mundo actual hay falsas religiones que honran a falsos dioses que no son Míos. Muchos afirman tener una gran santidad, pero apoyan la violencia contra los que no creen en esos mismos falsos dioses. Es claro que ellos no obedecen Mis Diez Mandamientos, los cuales gobiernan sobre toda la gente y todas las naciones."

"Así que vean, hay muchas formas en que el pecado puede triunfar en el corazón insensato. El hombre sensato está atento a los apegos de su corazón y a la forma en que utiliza sus afectos."

Lean Tito 2:11-14




Porque la gracia de Dios, que es fuente de salvación para todos los hombres, se ha manifestado. Ella nos enseña a rechazar la impiedad y los deseos mundanos, para vivir en la vida presente con sobriedad, justicia y piedad, mientras aguardamos la feliz esperanza y la Manifestación de la gloria de nuestro gran Dios y Salvador, Cristo Jesús. Él se entregó por nosotros, a fin de librarnos de toda iniquidad, purificarnos y crear para sí un Pueblo elegido y lleno de celo en la práctica del bien.
RE: Latest messages are at Holy Love Ministries and Ministerios del Amor Santo