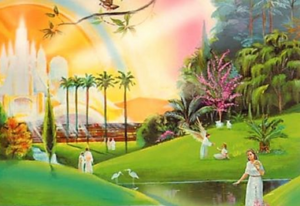 August 27, 2021
Once again, I (Maureen) see a Great Flame that I have come to know as the Heart of God the Father. He says: "Use time to your advantage. Surrender to Me in the present moment. Time ends for each soul at the moment of death. It is then, the soul chooses his eternal resting place. If he has not chosen to love Me when he was in the world, it will not be any different at his judgment."

"If you love Me, you will also love My Commandments.* You will try to please Me out of love for Me. There is no joy on earth that can compare to My Paradise. Those who deeply love Me on earth will be placed at My Feet for all eternity."

Read Galatians 6:7-10+

Do not be deceived; God is not mocked, for whatever a man sows, that he will also reap. For he who sows to his own flesh will from the flesh reap corruption; but he who sows to the Spirit will from the Spirit reap eternal life. And let us not grow weary in well-doing, for in due season we shall reap, if we do not lose heart. So then, as we have opportunity, let us do good to all men, and especially to those who are of the household of faith.

+ Scripture verses asked to be read by God the Father.

 

27 de agosto de 2021
Una vez más, yo (Maureen) veo una Gran Llama que he llegado a conocer como el Corazón de Dios Padre. Dice: "Usa el tiempo a tu favor. Ríndete a Mí en el momento presente. El tiempo termina para cada alma en el momento de la muerte. Es entonces que el alma elige su lugar de descanso eterno. Si no ha elegido amarme cuando estaba en el mundo, no será diferente a su juicio ".

"Si Me amas, también amarás Mis Mandamientos. * Tratarás de agradarme por amor a Mí. No hay alegría en la tierra que se pueda comparar a Mi Paraíso. Aquellos que Me aman profundamente en la tierra serán puestos en Mis pies por toda la eternidad ".

Lea Gálatas 6: 7-10 +

Que no te engañen; No se burlan de Dios, porque todo lo que el hombre siembra, eso también segará. Porque el que siembra para su propia carne, de la carne segará corrupción; pero el que siembra para el Espíritu, del Espíritu segará la vida eterna. Y no nos cansemos de hacer el bien, porque a su tiempo segaremos, si no desmayamos. Así que, según tengamos oportunidad, hagamos el bien a todos, y especialmente a los de la familia de la fe.

+ Los versículos de las Escrituras pidieron ser leídos por Dios el Padre.
RE: Latest messages are at Holy Love Ministries (www.holylove.org) and Ministerios del Amor Santo (www.amorsanto.com)