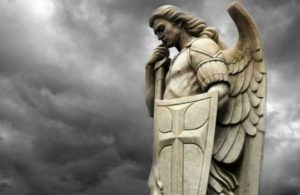 October 11, 2021
Once again, I (Maureen) see a Great Flame that I have come to know as the Heart of God the Father. He says: "These days, people are very careful about protecting themselves from the COVID virus, and rightly so. They see clearly what they should do to protect themselves and what they should avoid. But, while they are cautious about protecting their mortal lives, they disregard any caution in protecting their immortal life. They do not take note of that which weakens their relationship with Me. They do not try to protect their faith from marauders. They expose their faith to every kind of 'germ' which would challenge its well-being. They gather in large crowds of unbelievers without My Protection."

"My children, your immortal life is what you make of it while on earth. When you respect My Commandments* and try to live in a way that pleases Me, it is as though you are wearing a mask which protects your soul. Make this a priority in your everyday existence as much as you do protection from disease."

Read Colossians 3:1-4+

If then you have been raised with Christ, seek the things that are above, where Christ is, seated at the right hand of God. Set your minds on things that are above, not on things that are on earth. For you have died, and your life is hid with Christ in God. When Christ who is our life appears, then you also will appear with him in glory.

+ Scripture verses asked to be read by God the Father.

 

11 de Octubre del 2021
Nuevamente veo una gran llama que he llegado a reconocer como el Corazón de Dios Padre. Dice: "En estos tiempos, las personas son muy cuidadosas para protegerse del COVID, y con razón. Ellas ven con claridad lo que deben y no deben hacer para protegerse. Pero aunque son cautelosos para proteger su vida mortal, ignoran cualquier precaución para proteger su vida inmortal. No reparan en lo que debilita su relación Conmigo. No intentan proteger su fe de los merodeadores. Exponen su fe a todo tipo de 'gérmenes' que amenazan su bienestar. Se reúnen en grandes multitudes de incrédulos sin Mi protección."

"Hijos Míos, su vida inmortal es la que ustedes preparan cuando están en la tierra. Cuando respetan Mis mandamientos e intentan vivir de una manera que me agrada, es como si usaran un tapaboca que protege su alma. Hagan de esto una prioridad en su existencia diaria tal como es el protegerse de las enfermedades."

Lean Colosenses 3:1-4




Ya que ustedes han resucitado con Cristo, busquen los bienes del cielo donde Cristo está sentado a la derecha de Dios. Tengan el pensamiento puesto en las cosas celestiales y no en las de la tierra. Porque ustedes están muertos, y su vida está desde ahora oculta con Cristo en Dios. Cuando se manifieste Cristo, que es nuestra vida, entonces ustedes también aparecerán con él, llenos de gloria.
RE: Latest messages are at Holy Love Ministries (www.holylove.org) and Ministerios del Amor Santo (www.amorsanto.com)