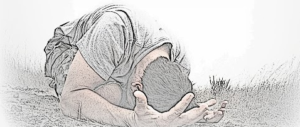 March 6, 2021
Once again, I (Maureen) see a Great Flame that I have come to know as the Heart of God the Father. He says: "Take upon yourselves today – in this present moment – the challenge of your sanctification. This requires a purification of purpose. For anyone to increase in holiness, he must in Truth recognize his faults and failings. This conviction of conscience is the only path to increase in holiness. This alone shows you the importance of each present moment."

"Just as you recognize your shortcomings, it is of equal importance to acknowledge your strengths. Each soul has special gifts that he can use to strengthen the call to holiness in his community. This requires first and foremost humility of heart to see that every strength is My gift and not the result of the soul's effort."

"Be at peace then, knowing that it is by My Hand you are where you are for My benefit and towards your own sanctification in each present moment."

Read Galatians 6:7-10+

Do not be deceived; God is not mocked, for whatever a man sows, that he will also reap. For he who sows to his own flesh will from the flesh reap corruption; but he who sows to the Spirit will from the Spirit reap eternal life. And let us not grow weary in well-doing, for in due season we shall reap, if we do not lose heart. So then, as we have opportunity, let us do good to all men, and especially to those who are of the household of faith.

+ Scripture verses asked to be read by God the Father.

 

6 de Marzo del 2021
Nuevamente veo una gran llama que he llegado a reconocer como el Corazón de Dios Padre. Dice: "Asuman hoy, en este momento presente, el desafío de su santificación. Esto requiere el propósito de purificarse. Para que alguien crezca en santidad, tiene que reconocer de verdad sus faltas y fallas. Este convencimiento de conciencia es el único camino para crecer en santidad. Esto es suficiente para mostrarles la importancia de cada momento presente."

"Así como reconocen sus defectos, igual de importante es que reconozcan sus fortalezas. Cada alma tiene dones especiales que puede utilizar para reforzar el llamado a la santidad en su comunidad. Esto requiere, antes que nada, humildad sincera para ver que cada fortaleza es un regalo Mío y no el resultado del esfuerzo del alma."

"Entonces, estén en paz, sabiendo que es por Mi Mano que ustedes están donde están para Mi beneficio y para su propia santificación en cada momento presente."

Lean Gálatas 6:7-10




No se engañen: nadie se burla de Dios. Se recoge lo que se siembra: el que siembra para satisfacer su carne, de la carne recogerá sólo la corrupción; y el que siembra según el Espíritu, del Espíritu recogerá la Vida eterna. No nos cansemos de hacer el bien, porque la cosecha llegará a su tiempo si no desfallecemos. Por lo tanto, mientras estamos a tiempo hagamos el bien a todos, pero especialmente a nuestros hermanos en la fe.
RE: Latest messages are at Holy Love Ministries (www.holylove.org) and Ministerios del Amor Santo (www.amorsanto.com)