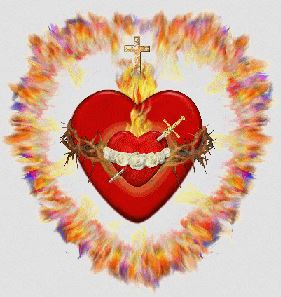 March 20, 2020
Once again, I (Maureen) see a Great Flame that I have come to know as the Heart of God the Father. He says: "I am the Eternal Now. I see all things – good and evil. I know, as your Papa, what is best for you. So, today, I tell you, the best you can do is to shelter in place and pray. Offer your confinement for those who will die an unprovided death – a death in the state of sin. Pray for an early resolution to the evil of this virus. Do not think of unimportant reasons to go out into the public, as these could be Satan's tricks to lead you into contamination."

"This is the hour to bolster the fortress of your hearts in Holy Love. Holy Love will deliver you from all fear, if you choose to surrender to it. Confide your concerns to My Paternal Heart. My Power is Omnipotent and My Will for you, if you surrender to Me. Do not search out reasons to fear – search out reasons to trust. It is then, I will support you. Strip yourselves of excesses and focus on Holy Love, which is My Plan – My Will – for you."

"Satan does not want you to be united spiritually. He does not want you to use this cross towards any good end. Therefore, I tell you, draw closer to one another and to Me spiritually. This is your power and your strength."

Read Ephesians 4:1-6+

I therefore, a prisoner for the Lord, beg you to walk in a manner worthy of the calling to which you have been called, with all lowliness and meekness, with patience, forbearing one another in love, eager to maintain the unity of the Spirit in the bond of peace. There is one body and one Spirit, just as you were called to the one hope that belongs to your call, one Lord, one faith, one baptism, one God and Father of us all, who is above all and through all and in all.

Read Philippians 2:1-2+

So if there is any encouragement in Christ, any incentive of love, any participation in the Spirit, any affection and sympathy, complete my joy by being of the same mind, having the same love, being in full accord and of one mind.

+ Scripture verses asked to be read by God the Father.

 

20 de Marzo del 2020
Nuevamente veo una gran llama que he llegado a reconocer como el Corazón de Dios Padre. Dice: "Yo soy el Eterno Ahora. Yo veo todas las cosas; lo bueno y lo malo. Como Papá suyo, Yo sé qué es lo mejor para ustedes. Así que hoy les digo, lo mejor que pueden hacer es resguardarse y rezar. Ofrezcan este encierro por los que van a morir de forma desprovista; una muerte en estado de pecado. Recen pidiendo una pronta solución al mal de este virus. No consideren razones sin importancia para salir, pues estas podrían ser trampas de Satanás para que se contaminen."

"Ahora es momento de reafirmar la fortaleza de sus corazones en el Amor Santo. Si ustedes eligen el Amor Santo, se librarán de todo miedo. Encomienden sus preocupaciones a Mi Corazón Paternal. Mi poder es omnipotente y es Mi Voluntad para ustedes, si se rinden a Mí. No busquen razones para tener miedo; busquen razones para confiar. Es entonces cuando Yo los respaldaré. Despójense de los excesos y enfóquense en el Amor Santo, el cual es Mi plan –Mi Voluntad– para ustedes."

"Satanás no quiere que ustedes estén unidos espiritualmente; no quiere que utilicen esta cruz para ningún fin bueno. Por lo tanto, Yo les digo, acérquense unos a otros y a Mí espiritualmente. Este es su poder y su fuerza."

Lean Efesios 4:1-6




Yo, que estoy preso por el Señor, los exhorto a comportarse de una manera digna de la vocación que han recibido. Con mucha humildad, mansedumbre y paciencia, sopórtense mutuamente por amor. Traten de conservar la unidad del Espíritu, mediante el vínculo de la paz. Hay un solo Cuerpo y un solo Espíritu, así como hay una misma esperanza, a la que ustedes han sido llamados, de acuerdo con la vocación recibida. Hay un solo Señor, una sola fe, un solo bautismo. Hay un solo Dios y Padre de todos, que está sobre todos, lo penetra todo y está en todos.

Filipenses 2:1-2
Si la exhortación en nombre de Cristo tiene algún valor, si algo vale el consuelo que brota del amor o la comunión en el Espíritu, o la ternura y la compasión, les ruego que hagan perfecta mi alegría, permaneciendo bien unidos. Tengan un mismo amor, un mismo corazón, un mismo pensamiento.
RE: Latest messages are at Holy Love Ministries and Ministerios del Amor Santo