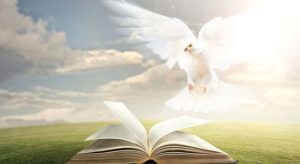 November 11, 2020 ·
Once again, I (Maureen) see a Great Flame that I have come to know as the Heart of God the Father. He says: "Children, this country* is now in turmoil due to the dishonesty of some who had greedy ambition as a motive for their actions. It is the task of a few to unravel the evil actions of many. I tell you solemnly, children, do not lose heart. Pray that the moral fiber of this nation will be substantiated by Truthful findings in this investigation. I applaud your sitting President** that he has not surrendered his office in this travesty called an 'election'."***

"Those of you who are convinced of the Truth must remain united through prayer. At stake is the Constitution**** and the freedoms which it outlines. This whole 'election' process has challenged the basic premise of rights that your nation was founded on. The enemy is intent on destroying this country from within as he knows a frontal attack would never be successful. Do not be weakened by misinformation. Be firm in your resolve to remain one nation under God – never influenced by Satan's tactics which are presented as 'Truth' by the mass media."

Read 1 Peter 5:8-11+

Be sober, be watchful. Your adversary the devil prowls around like a roaring lion, seeking some one to devour. Resist him, firm in your faith, knowing that the same experience of suffering is required of your brotherhood throughout the world. And after you have suffered a little while, the God of all grace, who has called you to his eternal glory in Christ, will Himself restore, establish, and strengthen you. To Him be the dominion for ever and ever. Amen.

+ Scripture verses asked to be read by God the Father.

 

11 de Noviembre del 2020


Nuevamente veo una gran llama que he llegado a reconocer como el Corazón de Dios Padre. Dice: "Hijos, este País está ahora en caos debido a la deshonestidad de algunas personas que tuvieron ambición codiciosa como motivo de sus acciones. Es tarea de unos cuantos descubrir las acciones malignas de muchos. Hijos, en verdad les digo, no se desanimen. Recen pidiendo que la fibra moral de esta Nación sea corroborada por los hallazgos verídicos en esta investigación. Felicito a su actual Presidente (Donald J. Trump) porque no ha entregado su cargo en esta farsa llamada 'elección'."

"Aquellos de ustedes que están convencidos de la verdad, tienen que permanecer unidos en oración. Está en riesgo la Constitución y las libertades que esta define. Todo este proceso 'electoral' ha desafiado la premisa básica de los derechos sobre los que su Nación se fundó. El enemigo quiere destruir este País desde el interior, pues él sabe que un ataque frontal nunca tendría éxito. Que no los debilite la desinformación. Estén firmes en su decisión de permanecer como una nación bajo la autoridad de Dios, jamás influenciados por las tácticas de Satanás que los medios de comunicación presentan como 'verdad'."

Lean 1ª Pedro 5:8-11
Sean sobrios y estén siempre alerta, porque su enemigo, el demonio, ronda como un león rugiente, buscando a quién devorar. Resístanlo firmes en la fe, sabiendo que sus hermanos dispersos por el mundo padecen los mismos sufrimientos que ustedes. El Dios de toda gracia, que nos ha llamado a su gloria eterna en Cristo, después que hayan padecido un poco, los restablecerá y confirmará, los hará fuertes e inconmovibles. ¡A él sea la gloria y el poder eternamente! Amén.
RE: Latest messages are at Holy Love Ministries and Ministerios del Amor Santo