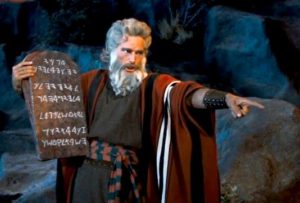 August 7, 2021
Once again, I (Maureen) see a Great Flame that I have come to know as the Heart of God the Father. He says: "Children, continue on the path of righteousness by reviewing the Ten Commandments* each morning. You will discover they take on new meaning each time you review them from the heart. This is the way to avoid sins and discover areas of weakness in your spirituality. Stay on the road which most pleases Me in this way."

"Those who are not familiar with My Commandments are allowing Satan to infiltrate their lives. They do not recognize the enemy and discover his port of entry in their daily lives. Soon, areas of sin and occasions of sin become routine. I love each soul in the depths of My Paternal Heart and I want to awaken souls to the dangers they are continually exposed to."

"Do not allow the world which is passing to expose you to new temptations. Allow Me to take dominion over your work, your amusements and your priorities. Make your moment-to-moment decisions one with My Will."

Read Colossians 3:1-10+




If then you have been raised with Christ, seek the things that are above, where Christ is, seated at the right hand of God. Set your minds on things that are above, not on things that are on earth. For you have died, and your life is hid with Christ in God. When Christ who is our life appears, then you also will appear with him in glory. Put to death therefore what is earthly in you: immorality, impurity, passion, evil desire, and covetousness, which is idolatry. On account of these the wrath of God is coming upon the sons of disobedience. In these you once walked, when you lived in them. But now put them all away: anger, wrath, malice, slander, and foul talk from your mouth. Do not lie to one another, seeing that you have put off the old nature with its practices and have put on the new nature, which is being renewed in knowledge after the image of its creator.

+ Scripture verses asked to be read by God the Father.

 

7 de Agosto del 2021
Nuevamente veo una gran llama que he llegado a reconocer como el Corazón de Dios Padre. Dice: "Hijos, continúen en el sendero de la rectitud revisando los Diez Mandamientos cada mañana. Descubrirán que adquieren un nuevo significado cada vez que los revisen con sinceridad. Esta es la manera de evitar pecados y de descubrir las áreas de debilidad en su espiritualidad. Así, permanezcan en el camino que más me agrada."

"Quienes no están familiarizados con Mis mandamientos están permitiendo que Satanás se infiltre en sus vidas. No reconocen al enemigo y le descubren la vía de acceso en su vida diaria. Pronto, las áreas de pecado y las ocasiones de pecar se hacen un hábito. Yo amo a cada alma desde lo profundo de Mi Corazón Paternal y quiero hacerles ver los peligros a los que continuamente están expuestas."

"No dejen que el mundo pasajero los exponga a nuevas tentaciones. Permítanme tomar el dominio sobre su trabajo, sus diversiones y sus prioridades. Hagan que sus decisiones de cada instante sean una con Mi Voluntad."

Lean Colosenses 3:1-10




Ya que ustedes han resucitado con Cristo, busquen los bienes del cielo donde Cristo está sentado a la derecha de Dios. Tengan el pensamiento puesto en las cosas celestiales y no en las de la tierra. Porque ustedes están muertos, y su vida está desde ahora oculta con Cristo en Dios. Cuando se manifieste Cristo, que es nuestra vida, entonces ustedes también aparecerán con él, llenos de gloria. Por lo tanto, hagan morir en sus miembros todo lo que es terrenal: la lujuria, la impureza, la pasión desordenada, los malos deseos y también la avaricia, que es una forma de idolatría. Estas cosas provocan la ira de Dios sobre los rebeldes. Ustedes mismos se comportaban así en otro tiempo, viviendo desordenadamente. Pero ahora es necesario que acaben con la ira, el rencor, la maldad, las injurias y las conversaciones groseras. Tampoco se engañen los unos a los otros. Porque ustedes se despojaron del hombre viejo y de sus obras, y se revistieron del hombre nuevo, aquel que avanza hacia el conocimiento perfecto, renovándose constantemente según la imagen de su Creador.
RE: Latest messages are at Holy Love Ministries (www.holylove.org) and Ministerios del Amor Santo (www.amorsanto.com)
Download e-Book!                                                                            ¡Descargar E-Libro!